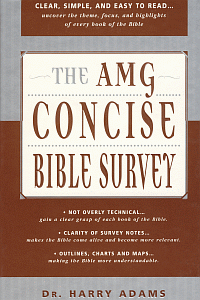 AMG Concise Bible Survey
Clear, Simple and Easy to Read...
Highlights
Not overly technical
Clarity of Survey Notes
Outlines, Charts, and Maps
Product Details
The AMG Concise Bible Survey helps the reader feel more comfortable with the Bible by providing a concise survey written at a high school level in a format that is easy to grasp. This convenient introduction and survey of every book in the Bible can be quickly digested and used repeatedly as a quick-reference guide.
About the Author:
Dr. Harry Adams received his BA from Auburn University and his Th.M. and D.Min from Dallas Theology Seminary. Dr. Adams taught at Carolina Bible College, Bladen Community College, and Fayetteville Technical Community College.
Dr. Harry Adams, was a dynamic pastor at the Church of the Open Door in Fayetteville before his body fell victim to Amyotrophic Lateral Sclerosis in 1997. Under Adams' leadership, the church grew and two expansion projects were completed, along with adding community outreach programs. Dr. Adams was a studious pastor and was driven to help Christians in need overseas. He was active with Voice of the Martyrs, an international group that reports on Christian struggles in hostile countries. Dr. Harry Adams passed away in the winter of 2008.
Endorsements
Even though I have studied, taught, and preached the Bible for more than fifty years, I still struggle to get the big picture of God's book. Dr. Adams' work is clear, concise, and most of all accessible. I recommend it to all who read God's Word.