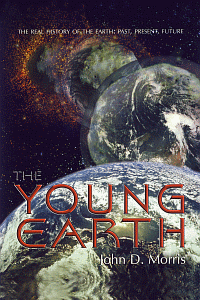 The Young Earth
The Real History of the Earth, Past, Present, Future
Product Details
Perhaps the premier question in the creation/evolution debate centers around the age of the earth. The two competing points of view are not close: a world as old as Scripture presents it, or one nearer the intimidating 4.5 Billion years assigned by modern theorists?
In this first-class highly readable book, geologist John D. Morris explores not only the rocks themselves, but also the layers of philosophical thought that today tend to obscure observable facts in nature.
Complete with pages suitable for making transparencies, The Young Earth serves as a handbook for those interested in studying the real history of the earth: past, present and future.
About the Author
John D. Morris is the son of creation scientist Dr. Henry M. Morris. John has a B.S. in Civil Engineering and an M.S. and Ph.D. in Geological Engineering. He is the president of the Institute for Creation Research in Santee, California and speaks at a variety of churches.