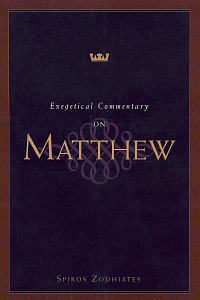 Exegetical Commentary On Matthew
Product Details
The newest in a long line of commentaries by noted Greek scholar Dr. Spiros Zodhiates, this new Matthew Commentary is the culmination of daily and rigorous study of the original Greek text for the entire Gospel of Matthew. The word-for-word exegesis will open insights into the original language of the New Testament, illuminating the English texts we have today more fully.
About the Author
Spiros Zodhiates was born to Greek parents on the island of Cyprus in 1922. After completing his Greek education, he attended the American University in Cairo, Egypt, The National Bible Institute (now Shelton College), and New York University. He earned his Doctor of Theology degree from Luther Rice Seminary. In addition, Dr. Zodhiates has been the recipient of several honorary doctorates.
In 1946, he came to the United States at the invitation of the American Mission to the Greeks, Inc. At that time, there were two part-time employees who met in a small, one-room office. Dr. Zodhiates became president of this organization in 1966. Now known as AMG International ('Advancing the Ministries of the Gospel'), it carries on a worldwide evangelistic and relief ministry and has its headquarters in Chattanooga, Tennessee.
Dr. Zodhiates is a recognized authority on the Greek New Testament, and has edited an edition of the Modern Greek New Testament that was published by the Million Testaments Campaign and the American Bible Society. He is the author of numerous exegetical books and booklets in both the Greek and English languages. In addition, he was heard daily on the New Testament Light radio program, released over a network of stations across the United States and Canada.
After suffering numerous health problems in the late 1990s, Zodhiates transitioned out of active work, though many of his commentary manuscripts are still being edited and published, and his radio and television recordings are being redistributed digitally. He died in Chattanooga on October 10, 2009.