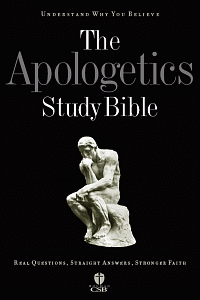 The Apologetics Study Bible
Highlights
Features valuable contributions from a who's-who of modern apologists such as Chuck Colson, Norm Geisler, Josh McDowell, Lee Strobel, Ravi Zacharias
2008 Christian Retailing "Retailer's Choice" Award winner
Product Details
The Apologetics Study Bible will help today's Christian better understand, defend and proclaim their beliefs in this age of increasing moral and spiritual relativism.
More than 100 hundred key articles are placed throughout the volume relating the truth of the Bible to disciplines such as science, history, and philosophy. This dynamic feature prompts a rewarding experience at every reading. Highlights of this new thinking person's edition of God's Word include an introduction focusing on relevant apologetics issues, and profiles of historic Christian apologists from Justin Martyr to C.S. Lewis.
NOTE: The text of the Holman Christian Standard Bible is not included in this product. You can purchase the HCSB separately, or the Apologetics Study Bible can be used in conjunction with any other Bible in your Library.
Endorsements
Christians in the 21st century, as never before, must know what they believe and why they believe. They must be able to define and defend the faith. The ASB will help equip a new generation of believers to do that with competency and conviction.
When we share our faith with others, we often run into Bible passages that raise difficult questions. The Apologetics Study Bible deals with such problems in footnotes right at the bottom of the page. It also provides discussions of more general questions like the existence of God and the problem of evil…The Apologetics Study Bible is a useful tool for Christian witness.
The Apologetics Study Bible is the best single resource available for defending the Faith. It is like having an apologetics library at your fingertips, an indispensable volume that is both scholarly and user-friendly. Destined to become the "gold standard" among study Bibles.