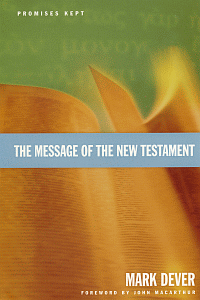 The Message of the New Testament
Promises Kept
Product Details
The New Testament is the story of how all the promises made by God in the Old Testament were kept—and what that means for us today. The nation of Israel had many hopes: hope for a deliverer, hope for restored fellowship with God, and hope for the world to be put right. The New Testament explains how those promises were kept and how, if we are Christians, they are kept in us as well.
Mark Dever surveys the historical context, organization, and theology of each New Testament book, in light of God's Old Testament promises. His message is that of the New Testament itself, one of hope fulfilled.
About the Author

Dever grew up in rural Kentucky where he was an avid reader. He began reading sections of the World Book Encyclopedia and the Harvard Classics before he was ten years old and based upon his reading and thinking considered himself an agnostic in his younger years. Later rereading and thinking about the Gospels and the change that he saw in the life of Jesus' disciples led him to become a Christian.
Dever earned the degrees of Bachelor of Arts, magna cum laude, from Duke University, Master of Divinity, summa cum laude, from Gordon-Conwell Theological Seminary, Master of Theology from The Southern Baptist Theological Seminary, and Doctor of Philosophy in ecclesiastical history from Cambridge University.
Dever has been the senior pastor of the Capitol Hill Baptist Church in Washington, D.C. since 1994 and is the executive director of 9Marks Ministries, a Christian ministry he co-founded "in an effort to build biblically faithful churches in America." In the last several years, Dever has become a more widely-recognized name due in part to his appearance at conferences such as the Desiring God National Conference, the Ligonier Ministries Conference, the Shepherd's Conference and the Together for the Gospel conference.
Dever serves as a council member of the Alliance of Confessing Evangelicals and chairs the Alliance Forum, a national quarterly conference call of Evangelical leaders from different denominations.
Endorsements
Many Bible readers are familiar with individual trees while failing to see the forest. They are in great danger of misinterpreting the parts of the Bible they read because they do not see the entire structure of a Gospel like John or an epistle like Ephesians. Mark Dever fills a gaping need with his sermons on each of the individual books.