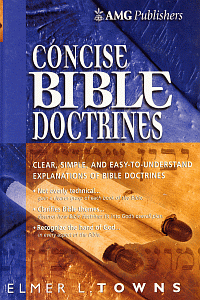 Highlights
How to Interpret the Bible
Who God Is
The Present Ministry of Jesus Christ
The Present Ministry of the Holy Spirit
The Works of Angels
The Nature of Satan
Demon Activity
The Nature of Prophecy
The Signs of the Times
The Rapture
The Eternal Abode of the Unsaved
The Eternal Home of the Saved
Product Details
Concise Bible Doctrines is written for the average Christian—the contemporary Bible student—not the theologian. Trying to simplify sophisticated and complicated doctrines, Dr. Towns takes the hard to comprehend and makes it readily understandable for the average layman. Finally, the doctrines are presented in a very practical way—not dry—but easy to apply to everyday life.
Individuals, families, and churches grow when they're grounded in solid Biblical doctrine. All the Christian doctrines are listed conveniently in the table of contents. Doctrines that have been debated for centuries, such as the trinity, the personality of man, as well as current issues, the work of angels, satan, and demons, as well as the signs of the times. This is an engaging read for anyone interested in what the Bible has to say about what truly affects our lives!
About the Author

About the Author
Dr. Elmer Towns is a college and seminary professor, an author of popular and scholarly works (the editor of two encyclopedias), a popular seminar lecturer, a dedicated worker in Sunday School, and a developer of over 20 resource packets for leadership education. He has published over 100 books listed in the Library of Congress, 7 listed in the Christian Booksellers Best Selling List and several have become accepted college textbooks. He is also the 1995 recipient of the coveted Gold Medallion Award for his book, The Names of the Holy Spirit.
He was President of Winnipeg Bible College for five years and paved the way for it to receive American Accreditation and Provincial authority to offer degrees (1960-1965). He taught at Trinity Evangelical Divinity School, in greater Chicago, Illinois, in the field of Religious Education and Evangelism (1965-1971).
He co-founded Liberty University with Jerry Falwell in 1971, and he was the only full-time teacher in the first year of Liberty's existence. Today, the University has over 11,400 students on campus and 39,000 in its Distance Learning program, and he serves as the Dean of the School of Religion.
Dr. Towns has given theological lectures and taught intensive seminars at over 50 theological seminaries in America and abroad. He holds visiting professorship rank in five seminaries. He has written over 2,000 reference and/or popular articles and received six honorary doctoral degrees.
His personal education includes a B.S. from Northwestern College in Minneapolis, Minnesota, a M.A. from Southern Methodist University in Dallas, Texas, a Th.M. from Dallas Theological Seminary also in Dallas, a MRE from Garrett Theological Seminary in Evanston, Illinois, and a D.Min. from Fuller Theological Seminary in Pasadena, California.
His wife of 55 years, Ruth, teaches a Christian Women's class at Liberty University. They have three children, ten grandchildren, and live in Forest, Virginia.