A Theology for the Church
Author: Daniel L. Akin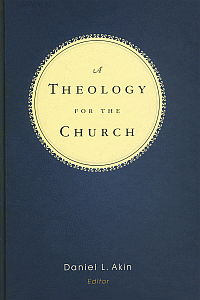 Product Highlights
What does the Bible say?
What has the Church believed?
How do the doctrines fit together?
How does each doctrine impact the church today?
Product Details
A Theology for the Church, is an immense 992-page work edited by Daniel Akin, with contributions from leading Baptist thinkers like: Albert Mohler, Jr., Paige Patterson, Timothy George and many others. The eight doctrines discussed include the doctrine of Revelation, God, Humanity, Christ the Holy Spirit, Salvation, the Church and Last Things and The Pastor as Theologian.
About the Editor
Daniel L. Akin was born in of 1957 in Atlanta, Georgia. He earned his B.A., at Criswell Colleget; M.Div. degree from Southwestern Baptist Theological Seminary and his Ph.D. degree from the University of Texas at Arlington. He is the President of Southeastern Baptist Theology Seminary and has been teaching at Southeastern since 2004. Before serving at president he was the Dean of the School of Theology at The Southern Baptist Theological Seminary.
Dr. Akin has served in missionary work all over the world including: Australia, Thailand, Paraguay, India, Asia and the Middle East. He is affiliated with the Evangelical Theological Society. In addition to authoring numerous articles for scholarly journals and reference works, he served as the New Testament editor of The Believers Study Bible and has authored over twenty books.
This book also available within the following bundle: