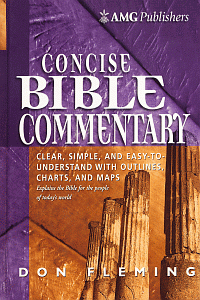 AMG Concise Bible Commentary
Highlights
An overview of every book and chapter of the Bible in an easy to understand format
Not an overly technical
Insight into the overall context of each Bible section while showing how the Biblical text has relevance to today's society
Maps, charts, outlines and introductory materials
Product Details
When people read the Bible, they are often frustrated by the wide gap in time and culture that separates them from the original readers. The aim of the AMG Concise Bible Commentary is to bridge the gap by providing the sort of information that ordinary readers are looking for in their search for a clearer understanding of the Bible. With a clearer understanding, the Bible becomes more relevant.
The AMG Concise Bible Commentary also bridges the gap between a technical Bible commentary and the person who has little technical knowledge when it comes to understanding the Bible. The commentary is based on a firm Biblical scholarship, but the reader does not have to be a Biblical scholar to understand it. It retains its credibility as a reliable reference work, yet presents the material in an easy-to-read and non-technical style. It is simple, but not simplistic. It seeks to be true to the Biblical material, while at the same time being helpful to the reader.
About the Author
Don Fleming and his wife Gae live in Belmont, Queensland, Australia. Don has had wide experience in evangelism, church planting, and Bible teaching in Australia, Asia, Africa, Europe, and the Pacific. He is well known for his ability to explain Christian teachings concisely and simply, both in his preaching and in his writing. He has over thirty books to his name and his writings have been translated into more than twenty languages. Don Fleming is also the author of the AMG Concise Bible Dictionary.