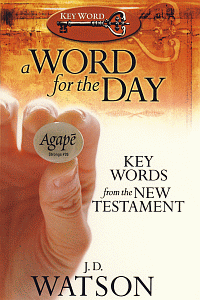 A Word for the Day
Key Words from New Testament
Highlights
Offers insight a on different Greek word every day
Product Details
The purpose of this book is to share the richness of some of the Greek words used in the New Testament and help make them practical in the reader's Christian living. Simply because words matter, the words of the New Testament matter most. And in a day when words don't seem to mean much, the need for precision in Christian doctrine and practice has never been more critical.
Each day of the year a particular Greek word is examined by first presenting a brief word study and then offering an application to make that word real for practical living. For reinforcement, each day also includes other related verses for the reader's personal study. In addition, each day's devotional suggests a few prayer concerns to help apply the truth learned that day.
Doc Watson fulfills his desire of many years to provide daily devotionals that not only contain deep spiritual truth, but also are easy to read and understand. In our day of Relativism, the absolutes of God's Word (and words) are desperately needed. These brief devotionals will enrich the mind, stir the soul, and empower the life of God's people.
Special Features:
Introduction
Daily Readings
Mining Bible Word Riches
Scripture Index
English Words Index
Greek Words Index
About the Author:
The founder of Sola Scriptura Ministries is Dr. J. D. Watson, originally born and raised in Indiana. He has been the pastor-teacher of Grace Bible Church in Meeker, Colorado since 1986 and has been in the Gospel ministry since 1974. With doctorates in both Theology and Religious Education, Pastor Watson is totally committed to the biblical principles of expository preaching, teaching, and application of God's Word as the absolute, sufficient, and sole authority in all matters. By biblical conviction, he carries on an active and didactic expository preaching ministry. He also formerly taught Old and New Testament history courses at Colorado Mountain College. The second and third loves of his life are his wife Debbie and son Paul.
Endorsements
Most "devotional" books and booklets function like spiritual vitamins - take one a day and you will feel better. But neither vitamin pills nor devotional books were ever meant to replace balanced diets; they are meant to be supplements. Hence, most devotional material is light on doctrine, designed to give the reader a spiritual lift more than instruction in truth. Enter Dr. Watson's excellent book. Ignoring the normal lighthearted paradigm of this genre of literature, Dr. Watson offers biblical meat and potatoes. I can think of no other book of this type that so meticulously enlightens the mind as it encourages the heart. J. D. Watson is at heart a pastor and he can't help but sermonize on occasion. With some of these comments the reader may take issue, as they might with any author. Also, Watson's strong preference for the KJV is apparent, which might not sit well with some. But these are minor concerns within the context of an overall helpful book. If you are looking for a daily devotional for the upcoming year I recommend this one highly.