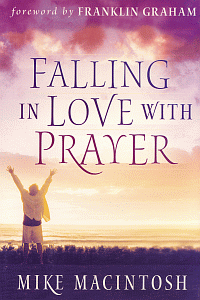 Falling in Love with Prayer
Highlights
If you ever wanted to change the way you feel about prayer—this is the book you've been waiting for
Product Details
Few things change a person's life like falling in love. And now, one of our nation's most dynamic pastors will help readers fall in love with prayer—and with their Creator! Mike MacIntosh offers personal experiences and powerfully directed Biblical truths about the power of prayer. The book itself is designed to be enjoyable, informative and applicable and is a true call to intimacy with God. Be prepared to be changed forever!
About the Author
For over thirty years Mike MacIntosh has been the Pastor of Horizon Christian Fellowship in San Diego, California. More than one hundred churches and para-church organizations have grown out of this congregation world-wide. Currently, there are over 1,000 students enrolled in Horizon's Preschool through College educational system.
Dr. MacIntosh is the Founder and President of Horizon International Ministries, dedicated to working throughout the world through social service projects, relief work, publications, radio, television, and sports. Mike and his team have served in critical need areas throughout the world including Poland, Romania, Uganda, Central America, The People's Republic of China, Mexico, Cuba, the Philippines and other Asian countries.
Mike serves as Chaplain for the San Diego Police Department, the San Diego County Sheriff's Department, the Newport Beach Police Department, and the California Office of Emergency Services. He is also the founding chaplain for the Family Justice Center which serves in the area of domestic violence for the city of San Diego. Dr. MacIntosh is a member of the spiritual care arm of the American Red Cross Critical Response Team. In this role, Dr. MacIntosh was one of eight coordinating chaplains at the New York World Trade Center disaster. Mike additionally works with the American Red Cross as a Chaplain, offering help for victims and first responders of violent crimes and natural disasters.
Dr. MacIntosh is a Certified Trauma Services Specialist with the Association of Traumatic Stress Specialists (ATSS), and a nationally-certified trainer for the International Critical Incident Stress Foundation (ICISF), facilitating trainings for police and fire departments, first responders, and the military.
He holds Master of Arts in Religion, Master of Divinity, Master of Ministry, and Doctor of Divinity degrees from Azusa Pacific Graduate School of Theology. He also received his Doctor of Ministry from Fuller Theological Seminary. Mike is an adjunct professor in the graduate program at Azusa Pacific University. Mike has authored numerous books, including, When Your World Falls Apart and Tender Touch of God.
Endorsements
No matter where you are in your spiritual journey, Mike MacIntosh's encouragement and guidance will help you enrich your prayer experience.