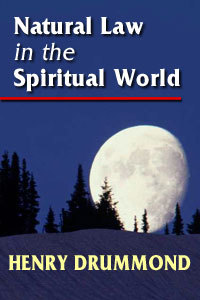 Natural Law in the Spiritual World
Product Details
Natural Law in the Spiritual World is a collection of essays not originally intended for publication but rather to help the writer get things clear in his own mind. Henry Drummond attempts to describe various spiritual phenomena in terms of "natural law," which may be rationally understood.
About the Author

Henry Drummond, (1851-1897), was born into a family that was deeply committed to the principles of the Free Church of Scotland, Drummond studied classics and English at Edinburgh University in 1866 but never received a degree. In 1870 he entered the theological college of the Free Church in Edinburgh and later spent one semester as a student at Tubingen University in Germany.
In the fall of 1873 Drummond assisted with Dwight L. Moody and Ira D. Sankey's first evangelistic meetings in Britain. When he followed up their work in 1874 and 1875, he became known as a gifted speaker in his own right. He wrote a meditation on 1 Corinthians 13 in 1874, The Greatest Thing in the World, which continues to be reprinted today. Returning to academic life in 1877, Drummond became a lecturer in natural science at the Free Church College in Glasgow. He assisted Moody once more in 1882. In 1883 Drummond published a book that made him famous, Natural Law in the Spiritual World. The work was extremely popular and within five years seventy thousand copies had been sold.
In 1883 and 1884 Drummond was in southern Africa to make a geological survey and on his return produced an official report as well as another popular book, Tropical Africa. In 1884 he was ordained and became professor of theology of the Free Church College in Glasgow. One of Drummond's later, significant books was The Ascent of Man, based on lectures he gave in Boston, Massachusetts, in 1890.
Endorsements
This is one of the most impressive and suggestive books on religion that we have read in a long time. No one who reads the papers entitled 'Biogenesis,' 'Degeneration,' 'Eternal Life,'and 'Classification,' to say nothing of the others in this volume, will fail to recognise in Mr. Drummond a new and powerful teacher; impressive, both from the scientific calmness and accuracy of his view of law, and from the deep religious earnestness with which he traces the working of law in the moral and spiritual sphere. We would most strongly commend his present volume to the attention of all who wish to see religious questions treated with wife knowledge and profound earnestness.