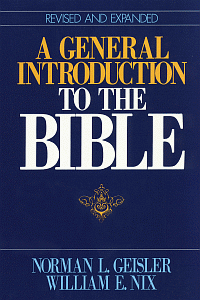 A General Introduction to the Bible
Revised and Expanded
Highlights
Cornerstone Magazine book of the year award in its category (1986)
Product Details
A General Introduction to the Bible, Revised and Expanded presents a comprehensive introduction to the Bible. It gives special emphasis to conservative scholarship and provides clearly defined responses to negative criticism that undermines the authority of the Bible.
The key subject areas covered are inspiration (Who wrote the Bible?), canonization (Which books belong in it?), transmission (Has it been accurately preserved?), and translation (Has it been adequately translated?). New charts have been added and others revised throughout the book. In addition to a thorough version of the entire book, new sections have been included dealing with the history of the doctrine of inspiration, current discussion of the inerrancy of the Bible, recent trends in textual criticism, and a review of modern English Bible translations, as well as an appendix listing more than 1,100 published English Bible translations.
About the Authors
Norman L. Geisler earned his Ph.D. at Loyola University of Chicago. He is a co-founder and former dean of Southern Evangelical Seminary. Geisler is the author/co-author of some seventy books and hundreds of articles. He has taught theology, philosophy, and apologetics on the college and graduate level for fifty years. He has been a professor at some of the top Seminaries in the United States, including Trinity Evangelical and Dallas Seminary, and has been a guest at numerous other schools. Geisler has spoken in over twenty six countries on six continents. He and his wife Barbara live in the Charlotte, North Carolina area. He maintains an active writing, speaking, and lecturing ministry across the country.
William E. Nix is an editorial and educational consultant based in Dallas, Texas.
Endorsements
Covers the inspiration, canonicity, text, and translation of the entire Bible from an evangelical point of view.