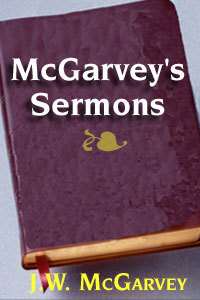 Product Details
Features 25 sermons delivered by John William McGarvey to the Broadway Church in Louisville, Kentucky. June-September 1893. Some of the topics discussed:
Sin and Its Punishment
Redemption in Christ
Cases of Conversion
Divine Providence
The River Jordan
About the Author
John William McGarvey was born in Hopkinsville, Kentucky, 1 March, 1829. He is the author of a Commentary on the Acts of the Apostles , Four-Fold Gospel, Lands of the Bible, and the The Authorship of Deuteronomy.