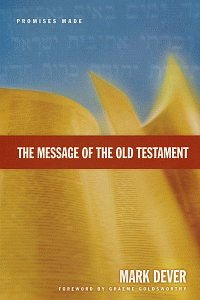 The Message of the Old Testament
Promises Made
Highlights
Named by the R. C. Ryan Center for Biblical Studies as one of the Best Tools for Preaching and Teaching
Product Details
The Old Testament is the story of God's promises to His people. Below the Old Testament's somewhat obscure surface is hidden magnificent truths about the love and power of God. Throughout the pages of the Old Testament the reader can find promise after promise from God, all of which are fulfilled in the New Testament—in the incarnation of Jesus Christ.
Author Mark Dever introduces readers to the Old Testament as a glorious whole so that they are able to see the big picture of the majesty of God and the wonder of His promises.
About the Author

Dever grew up in rural Kentucky where he was an avid reader. He began reading sections of the World Book Encyclopedia and the Harvard Classics before he was ten years old and based upon his reading and thinking considered himself an agnostic in his younger years. Later rereading and thinking about the Gospels and the change that he saw in the life of Jesus' disciples led him to become a Christian.
Dever earned the degrees of Bachelor of Arts, magna cum laude, from Duke University, Master of Divinity, summa cum laude, from Gordon-Conwell Theological Seminary, Master of Theology from The Southern Baptist Theological Seminary, and Doctor of Philosophy in ecclesiastical history from Cambridge University.
Dever has been the senior pastor of the Capitol Hill Baptist Church in Washington, D.C. since 1994 and is the executive director of 9Marks Ministries, a Christian ministry he co-founded "in an effort to build biblically faithful churches in America." In the last several years, Dever has become a more widely-recognized name due in part to his appearance at conferences such as the Desiring God National Conference, the Ligonier Ministries Conference, the Shepherd's Conference and the Together for the Gospel conference.
Dever serves as a council member of the Alliance of Confessing Evangelicals and chairs the Alliance Forum, a national quarterly conference call of Evangelical leaders from different denominations.
Endorsements
For many Christians the Old Testament is daunting and confusing. The books are long and speak about a culture dramatically different from ours. Mark Dever's sermons do not substitute for reading the Old Testament, but they do provide a wonderful help in understanding it. Dever unpacks the major themes of each book with remarkable clarity, and the book also shines in conveying the message of the Old Testament for today. Here is a survey to the Old Testament that is accessible and spiritually edifying.