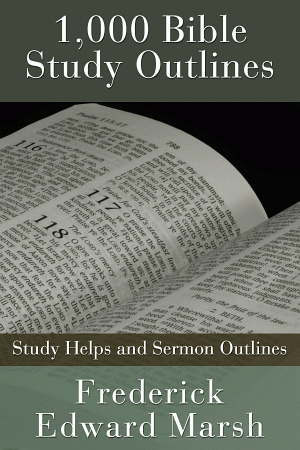 1,000 Bible Study Outlines
Study Helps and Sermon Outlines
Product Details
A valuable source of 1,000 Bible study outlines on various topics and doctrines for preachers and Bible teachers.
About the Author
Frederick Edward Marsh (1858-1931) was a great man of God, avid student of the Word of God, and a prolific author. His keen insight into the deeper truths of the Word of God has been recorded in his many books. Marsh was a member of the Advent Testimony Movement which began in 1917. The members declare they believe the Word of the Lord had begun to be fulfilled in Luke, Chapter 21; verse 24 and "The Times of the Gentiles" has begun to come to an end. Marsh devoted his entire life to a teaching ministry of the Bible. Works by F.E. Marsh include: 500 Bible Study Outlines, Illustrated Bible Study Outlines, Major Bible Truths, Why Did Christ Die?, and Practical Truths From First Thessalonians.
Endorsements
Valuable as sermon starters for preachers, leading the preacher to deeper Bible study.
Its value lies in the fact that the student is directed to the Book, and so becomes both a learner and a teacher.
Should be of considerable value to preachers, teachers and Christian workers... an excellent production.
A book of abiding value... These is something in this volume for every need and time, which makes it an excellent resource.
Ministers and other Christian workers... will find value in this work.