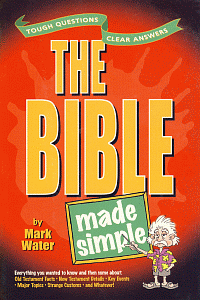 The Bible Made Simple
Tough Questions Clear Answers
Highlights
Part of The Made Simple Series
Product Details
The Made Simple Series by Mark Water explains questions about Christianity in a clear way. He simplifies, yet thoroughly explains complex issues regarding the Bible, morality, and religion in this excellent series.
The Bible Made Simple is an ideal introduction to the Bible. It will take you through the background of each individual Bible book, helping you to understand the behind-the-scenes story. You'll learn the key events, the customs that seem strange to us today, and the different features of each book.
Each book of the Bible is explained in a brief introduction, followed by archaeological facts and information on the history of the Bible itself and how it came into its modern-day existence. You'll also find:
Basic information about 200 key Bible characters
The differences between the four Gospels
How archeology backs up the Bible account
Key events in the history of the Israelites, the life of Christ, and the early church
Explanation of Bible customs and symbols
This series brings clarity to the complex, even to topics in the Bible and theology that can sometimes seem complicated.
Check out a sample of The Bible Made Simple by clicking on the Sample button.
About the Author
Mark Water was born in Devon, England and trained for the Anglican ministry at the London College of Divinity. He was ordained as an evangelical minister in 1966. For the past 20 years he has been engaged in the ministry of Christian literature as writer, editor and advisor. He has authored many works in addition to the Key Word Commentary such as the Bible Made Easy series, the Encyclopedia of Christian Quotations, Encyclopedia of Bible Facts and the New Encyclopedia of Christian Martyrs.