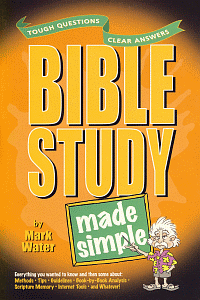 Bible Study Made Simple
Tough Questions Clear Answers
Highlights
Part of The Made Simple Series
Product Details
The Made Simple Series by Mark Water explains questions about Christianity in a clear way. He simplifies, yet thoroughly explains complex issues regarding the Bible, morality, and religion in this excellent series. It brings clarity to the complex, even to topics in the Bible and theology that can sometimes seem complicated.
Bible Study Made Simple will guide you through different methods of Bible study that can make the Bible come alive. It provides basic principles for studying the Bible. You'll also learn how to apply the Bible to your life with the provided practical guidelines.
Using this book, you'll come to understand the basic message of each book of the Bible and how the Old and New Testaments are linked. It leads you through how to discover the author, date, setting, and purpose of each book.
You'll also:
Learn how to read through the Bible in a year or less.
Get motivated to quickly learn one hundred Bible verses.
Learn to do word studies, topical studies, and personality studies.
Discover principles for interpreting Bible passages correctly.
Find new ways to memorize Scripture.
Identify the key, golden verse in each book of the Bible.
Check out a sample of Bible Study Made Simple by clicking on the Sample button.
About the Author:
Mark Water was born in Devon, England, and trained for the Anglican ministry at the London College of Divinity. He was ordained as an evangelical minister in 1966. For the past 20 years he has been engaged in the ministry of Christian literature as writer, editor, and advisor. He is the author of the best-selling series of John Hunt Publishing's Bible Made Easy series (with over one million sold). He has also authored The Classic Biography series and has compiled the comprehensive The Encyclopedia of Christian Quotations and The Encyclopedia of Martyrs.