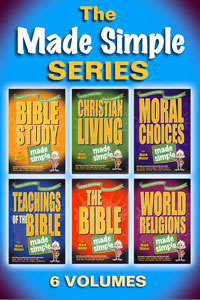 The Made Simple Series
Tough Questions, Clear Answers
Highlights
Features 6 volumes from The Made Simple Series
Provides Clean Answers to Tough Questions
Nearly an $80 value
Product Details
Have you ever wondered, "What are the key differences between Catholics, Protestants, Anglicans, Orthodox, and the many other denominations?" And "How is Christianity distinct from Islam, Hinduism, Buddhism, Confucianism, and a dozen other religions?"
The Made Simple Series by Mark Water explains questions like this in a clear way. He simplifies, yet thoroughly explains complex issues regarding the Bible, morality, and religion in this excellent series.
This series brings clarity to the complex, even to topics in the Bible and theology that can sometimes seem complicated.
This helpful 6-volume bundle includes:
Bible Study Made Simple—Learn to do word studies, topical studies, and personal studies. Discover principles for interpreting Bible passages correctly. Find new ways to memorize Scripture. Identify the key verse in each book of the Bible.
Christian Living Made Simple—Explains how you can make Jesus the main focus of your life and overcome selfish desires. Through a series of studies, you will discover how to start the Christian life, how to grow in it, and how to overcome problems that will come. These are excellent fundamental studies for sharing and teaching others.
Moral Choices Made Simple—Learn what the Bible has to say about abortion and adultery. Discover answers to the subjects of divorce and remarriage. The issues are as varied as: capital punishment, gambling, racism, war, medical dilemmas, homosexuality, and euthanasia.
Teachings of the Bible Made Simple—Explore the wide-range of Bible teachings on a variety of key issues. Learn how Jesus could be both man and God. Find 20 key Old Testament teachings. Discover what the Bible really says about angels, baptism, creation, the cross, hell, holiness, mercy, temptation, and much more.
The Bible Made Simple—Learn the key events, the strange customs, and the fascinating features of each individual Bible book. Find information about the key 200 Bible characters. Discover the crucial differences between the four Gospels. See how archeology confirms the events and facts of the Bible.
World Religions Made Simple—You'll receive a basic introduction to all the major religions of the world, including the big four: Christianity, Islam, Hinduism, and Buddhism. Each lengthy article discusses the founder, his influence, his beliefs, his writings, and the practices of each religious group.
Check out a sample of The Made Simple Series by clicking on the Sample button. Read more about each included volume by clicking on their book cover image below.
About the Author:
Mark Water was born in Devon, England, and trained for the Anglican ministry at the London College of Divinity. He was ordained as an evangelical minister in 1966. For the past 20 years he has been engaged in the ministry of Christian literature as writer, editor, and advisor. He is the author of the best-selling series of John Hunt Publishing's Bible Made Easy series (with over one million sold). He has also authored The Classic Biography series and has compiled the comprehensive The Encyclopedia of Christian Quotations and The Encyclopedia of Martyrs.
Products Included In This Bundle