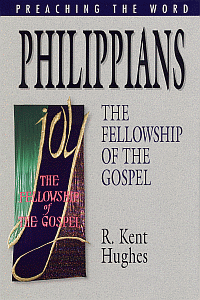 Preaching the Word: Philippians
The Fellowship of the Gospel
Highlights
Noted for its commitment to Biblical authority
Clear exposition of scripture
Practical Application
Named by the R. C. Ryan Center for Biblical Studies as one of the Best Tools for Preaching and Teaching
Product Details
A short epistle full of memorable verses, Paul's letter to the Philippians has become increasingly popular over time. A quick glance through this seemingly lighthearted epistle and readers can miss the deep-seated affections between the missionary and his most beloved church.
Paul shared a unique bond with the church at Philippi. Their partnership to evangelize the Gentile world was firmly founded on the belief in Jesus Christ as the center of who they were and how they lived. This firm foundation allowed the Philippians to weather the storms of suffering, sacrifice, and struggle as they sought to evangelize the Gentile world.
About the Author

R. Kent Hughes, retired senior pastor of College Church in Wheaton, Illinois, has authored numerous books for Crossway. He serves as the series editor for the popular Preaching the Word commentaries and has written seventeen books in the series. He and his wife, Barbara, have four children and eighteen grandchildren.
Endorsements
The Preaching the Word Commentary is one of my favorites. The focus upon explaining the text with preaching it as the goal makes the series resonate with the priorities of the pulpit. No academic aloofness here, but down-to-earth, preacher meat for God's people.
The single best resource for faithful biblical exposition today. A great boon for genuine reformation!
Throughout the Christian centuries, from Chrysostom and Augustine through Luther, Calvin, and Matthew Henry, to Martyn Lloyd-Jones and Ray Stedman, working pastors have been proving themselves to be the best of all Bible expositors. Kent Hughes stands in this great tradition, and his exciting expositions uphold it worthily.