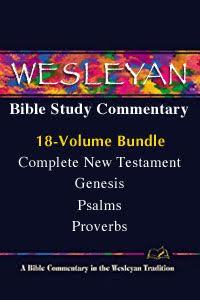 Wesleyan Bible Study Commentary Series - 18 Volume Bundle
Highlights
A Commentary in the Wesleyan Tradition
Based on the New International Version but can be used with any translation in Wordsearch
Product Details
The Wesleyan Bible Study Commentary takes its name from the great theologian and preacher John Wesley (1703-1791). Even today, evangelicals owe much to John Wesley as he is recognized as one of the principle founders of the evangelical movement. Wesley called sinners to repentance, maintained that means of grace were the manner by which God sanctifies and transforms the believer, and encouraged people to experience Jesus Christ personally. It is in this tradition that this modern commentary was written. This is how Wesley described the change God made in his own heart through faith in Christ:
I felt my heart strangely warmed. I felt I did trust in Christ, Christ alone for salvation, and an assurance was given me that he had taken away my sins, even mine, and saved me from the law of sin and death.
A Fresh New Testament Commentary, Plus More
The Wesleyan Bible Study Commentary covers all 27 books of the New Testament, plus the Old Testament books of Genesis, Psalms, and Proverbs. Each book of the Bible is explained paragraph-by-paragraph. This approach helps you follow the primary flow of thought in each passage. You will find the writing is easy and enjoyable to read as you make new discoveries in God's Word.
At the same time, the authors slow down often to examine particular details and concepts that are important for understanding how stories fit with the Bible as a whole. The authors recognize when there are alternative understandings of key passages in order to offer a broader knowledge of the various theological traditions and how the Wesleyan perspective relates to them.
"O Lord, You have searched me and known me."
Here is a small sample from the Wesleyan Bible Study Commentary. It's only the first couple paragraphs of commentary that address Psalm 39, but it demonstrates the precise and clear approach this commentary offers:
Although Psalm 139 presents some of the most profound theology in the Bible, it is "applied theology, the meaning of God for the believer in a particular situation of stress." Although the nature of his difficulty remains obscure, the psalmist is convinced that because God knew Him, He would help Him.
The psalm opens with a hymn of praise (see 139:1-18), which first exalts God's omniscience (see 139:1-6). God has absolute knowledge of humanity in its full range of activity: sitting, rising, traveling, lying down, thinking, speaking. He knows more than what is being done, He understands and evaluates the motives behind those actions. The word translated perceive implies insight, while discern suggests the winnowing or sifting of grain (139:2-3). Like a besieging army, God's knowledge surrounds the psalmist. He confesses that God knows him better than he knows himself (see 139:5-6).
This series offers insight into the Scripture that brings greater understanding of what the Bible says, its significance for our lives today, and further transformation into the image of Christ. Wordsearch makes it even better with the many embedded hyperlinks that save you time referencing Bible passages and other study tools.
Check out a sample by clicking on the yellow sample box underneath the book cover image. Learn more about each volume and see more samples by clicking on their book cover images below.
Products Included In This Bundle