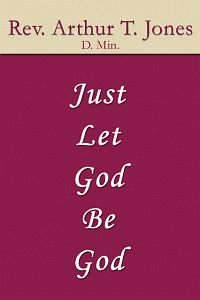 Product Details
Most of us, at one time or another, will strive to understand what our real meaning and purpose is. We will seek out the wisdom of psychologists, sociologists, advice columnists, and anyone who might have a clue as to what we should be doing with our lives to obtain a sense of meaning and significance. Just Let God Be God presents a wise and practical solution to our search: God. Dr. Jones suggests that we come into the habit of yielding our will to the will of God; namely, by relinquishing self-control, faulty expectations, and mortal measures of meaning for one's life. Dr. Jones outlines practical ways to allow God to define and shape our view of our life: past, present, and future. Taking Philippians 3:13-14 as his Scripture, we are encouraged to forget those things that are behind, reach forward to those things that are ahead, and press on toward the mark of the prize of the high calling of God which is in Christ Jesus. This book will challenge you to inspect your own need for control, analyze the ways you define success, assess your current state of submission to God, and finally, to just let God be God.
About the Author
Dr. Arthur T. Jones serves as senior pastor of Bible-Based Fellowship Church, Inc. and executive director of the Florida Mass Choir, Inc. Dr. Jones completed his requirements for the Doctor of Ministry degree as a Jeremiah Wright, Cornel West, Molefi Asante scholar at the United Theological Seminary, Dayton, Ohio in March 1996.
Dr. Jones is a retired marketing executive of the IBM Corporation. During his tenure at IBM, he held several technical and marketing management positions. Half of his career was spent in management, the last eight years in numerous executive management assignments.
Dr. Jones' significant travels include a study of Israel,the Holy Land, Egypt, Switzerland, Greece, and four preaching and teaching missions to West Africa. He has also taught and preached in seminaries in Africa, Egypt, Senegal, Guinea, Cote d'Ivorie, Ghana, Niger, Burkino Faso, Kenya, and the Central African Republic. Dr. Jones has also served as executive producer for three highly successful cultural upliftment summer youth productions, Don't Give Up on Your Dream, Til Victory is Won, and What's Going On.
His extensive experience uniquely equips him to speak to the multi-faceted dynamics of management and ministry. He now devotes his energies to full-time ministry and community. His other professional and community affiliations and distinctions include The Coalition of African American Organizations, Broadcast Music Inc. and the National Academy of Recording Arts and Sciences.