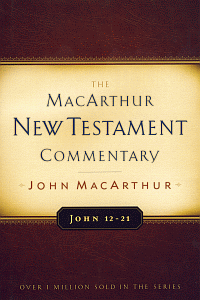 MacArthur New Testament Commentary - John 12-21
Highlights
Over 1,000,000 copies of The MacArthur New Testament Commentaries sold to date.
Considered the premier New Testament Commentary series, used worldwide by pastors,
teachers, and students of the Bible
Masterful...authoritative...clear
Product Details
From one of today's top-selling commentary series comes volume two of the Gospel of John, the 27th installment to the MacArthur New Testament Commentary series. John MacArthur gives verse-by-verse analysis in context and provides points of application for passages, illuminating the biblical text in practical and relevant ways. The series has been praised for its accessibility to lay leaders, and is a must-have for every pastor's library.
About the Author
John MacArthur, Jr. pastors Grace Community Church in Sun Valley, California, and serves as President of the Master's College and Seminary. A well-known Bible expositor and conference speaker, he has written numerous books. He is also the Bible teacher on "Grace to You", an international radio broadcast. He and his wife Patricia live in Southern California and have 4 grown children and eleven grandchildren.
Endorsements
The MacArthur New Testament Commentary is nothing less than a library of faithful exegesis and exposition. This project is unparalleled in our times, and John MacArthur has produced a masterful commentary series that demands attention and deserves a place in every preacher's library—where it should be kept close at hand. These commentaries remind us all that expository preaching is very much alive. Each new volume should be greeted with enthusiasm and gratitude.
This commentary not only illumines the biblical text, but has practical application that is personally beneficial, and also relevant or those teaching and preaching the Word. I personally turn to these commentaries often to help me interpret the text and find those transforming principles intended to change our lives.
The fruit from a lifetime of laboring in God's Word is shared with all of us through this series of commentaries. John's respect for the text, love for the Lord, and sympathy with all of us who would follow Christ bring just the right mix of scholarship, reverent reflection, application, and pastoral care.
John MacArthur provides those of us who love to preach and who are learning to preach with a great privilege by letting us have an 'over the shoulder' view of the calling he pursues so diligently, faithfully and well.