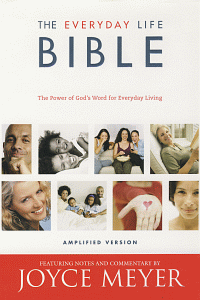 Everyday Life Bible
The Power of God's Word for Everyday Living
Highlights
Book Introductions
Life Points
Everyday Life Articles
Putting the Word to Work
Product Details
Throughout the pages of The Everyday Life Bible readers will experience the opportunity to study Scripture as if Joyce were sitting next to them! Not only will they learn more, they will be able to share this new understanding with family and friends in a practical and down-to-earth manner. Readers will gain tools for understanding and applying the Bible to real life situations and be infused with a deeper love of the Word of God.
About the Author
Joyce Meyer has been teaching the Word of God since 1976 and in full-time ministry since 1980. She is the best-selling author of more than seventy inspirational books, including Approval Addiction, In Pursuit of Peace, How to Hear from God, and Battlefield of the Mind. She has also released thousands of audio teachings as well as a complete video library. Joyce's Enjoying Everyday Life® radio and television programs are broadcast around the world, and she travels extensively conducting conferences. Joyce and her husband, Dave, are the parents of four grown children and make their home in St. Louis, Missouri.
Endorsements
I know of no one better than Joyce Meyer at reading and applying Scripture in a practical way. God has truly gifted her. Owning the Everyday Life Bible will be like having Joyce at home beside you, teaching you how to apply God's Word to your life every single day.
I cannot strongly encourage enough every believer to be in God's Word every day. May the helpful, insightful assistance given by this resource prompt many to feed on the Word and promote all toward a deeper love for Christ's life, His will and His ways.