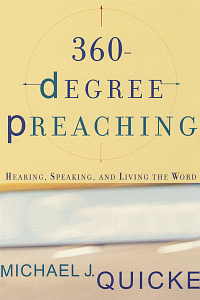 360 Degree Preaching
Hearing, Speaking, and Living the Word
Highlights
Preaching Magazine's 2003 Book of the Year
Expository preaching to a postmodern world
Product Details
Much of the malaise of the mainstream Western church results directly from preaching that is far from healthy. A surprising number of new books have been thrown at the problem, advocating fresh styles and techniques or simply restating the case for traditional expository preaching, but preachers are left overwhelmed and confused and their listeners remain just plain bored.
With 360-Degree Preaching, veteran preacher Michael Quicke brings expository preaching to a postmodern world. As someone who preaches every Sunday, he has witnessed the transforming power of preaching first hand for over thirty years. As he teaches students and pastors the art of preaching, his goal is to encourage preachers and those who train to be preachers.
In part 1, Quicke offers some vital principles for biblical preaching. He examines the scriptural roots of preaching and the importance of preaching throughout church history. He analyzes the current situation and suggests that the way forward lies in a re-commitment to preachings' Trinitarian dynamic, which Quicke calls "360-degree preaching." He calls for courageous and thoughtful engagement with culture and examines the effect of a preacher's spirituality upon preaching. He rounds out this first section with implications for preaching in our changing times.
Part 2 focuses on preaching practices and invites preachers to join in the "preaching swim," Quicke's model for the rigorous practical journey all preachers make each time they preach: immersion in Scripture, interpretation for today, sermon design, sermon delivery, and outcome. The book concludes with a sermon evaluation form and a sample sermon produced according to the model Quicke offers.
360-Degree Preaching is a vital tool for preaching students preparing for ministry and pastors looking for fresh insight into communicating to postmodern parishioners.
About the Author
Michael J. Quicke was Educated at both Cambridge and Oxford Universities, he spent 21 years in Baptist pastoral ministry in Blackburn Lancashire (1972-1980) and at the historic city centre church at St. Andrew's Street, Cambridge (1980-1993). While at Cambridge, morning congregations grew from 70 to over 500. The vision of the church involved the development of a mission centre, open seven days a week, through which 4000 people passed weekly. He was also Baptist chaplain to the University. His reputation as a Christian communicator grew as he appeared on television and radio, and spoke at conferences, conventions and assemblies throughout Britain, Australia, Canada and U.S.A.
Since arriving in the U.S Michael Quicke has thrown himself into his vision 'to help inspire a new generation of preachers who will set our churches on fire.' At Northern Seminary he has designed several masters courses in preaching and communication, as well as new courses for the Northern Doctor of Ministry program. He undertook a twenty month interim preaching ministry at First Baptist Church Wheaton (2000-2002), has preached often at local churches and spoken at many conferences across the US and beyond. His lectures in several different university and seminary settings have been well received across North America. His writing has significantly widened his ministry, especially his award-winning book 360 Degree Preaching which is used as a teaching text in seminaries in US, Canada, Britain and Australia.
Endorsements
Quicke challenges a popular metaphor for preaching, suggests a better alternative, and encourages preachers. The result is a book that takes seriously the challenges of preaching in the 21st century but faces them with a hopefulness rooted in God's character and activity.
Preachers today face many challenges, and Michael Quicke is well aware of them. Far from finding reason for despair, he has responded with an inspiring vision of the preaching task. His book contains many practical hints for novices and experienced preachers alike, but its greatest value resides in the theological foundation it lays down. With his picture of the 'preaching swim,' he sketches a trinitarian perspective on preaching, helping us to see that 'preaching empowered by Father, Son, and Holy Spirit has the potential to impact people unlike any other form of communication.
Michael Quicke offers helpful insights for preachers who want to do more than tread water in the pulpit. His concept of preaching as a 360-degree event is an idea every preacher needs to grasp, and his chapter on the preaching swim is worth the cost of the book. Quicke speaks to his fellow preachers with warmth, energy, and an insight from which we can all benefit. I would recommend this book to any preacher!
What I most appreciate about 360-Degree Preaching is its emphasis on the life of God that can and must penetrate every aspect of preaching. Quicke urges complete dependence on God's power and movement in the ministry of the Word. The book is well-informed, balanced, and most wonderfully worshipful, showing how God is glorified in anointed speaking. I recommend it wholeheartedly.
Michael Quicke has written a comprehensive and practical guide to developing sermons. Throughout, his clear voice, engaging personality, honest mind, and deep passion for the gospel are present.