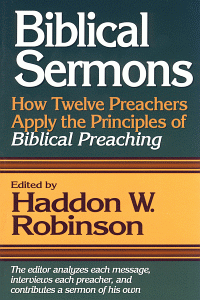 Biblical Sermons
How Twelve Preachers Apply the Principles of Biblical Preaching
Highlights
Haddon Robinson analyzes each message, interviews each preacher, and contributes a sermon of his own.
Product Details
Biblical Preaching has helped thousands of seminarians learn how to develop expository messages. Biblical Sermons offers to students of preaching concrete examples of how twelve experienced pulpiteers have made Haddon Robinson's homiletical priciples work for them.
The editor has done more than contribute a sermon of his own and collect sermons from eleven former students. He has written an introduction to the volume, commented on every sermon, and interviewed each preacher. Biblical Sermons shows how successfully the editor's method of developing sermons can be adapted to different contexts.
About the Author
Haddon W. Robinson, Ph.D., is the Harold John Ockenga Distinguished Professor of Preaching at Gordon-Conwell Theological Seminary in South Hamilton, Massachusetts. His book, Biblical Preaching, has sold more than 200,000 copies and has been used extensively in Bible colleges and seminaries since 1980.