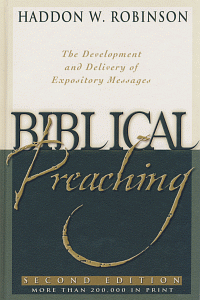 Biblical Preaching
The Development and Delivery of Expository Messages
Highlights
An updated version of Robinson's best-selling textbook on preaching More than 200,000 in printCurrently being used as a text for preaching in 120 seminaries and Bible colleges throughout the world
Product Details
Haddon Robinson's Biblical Preaching has become a modern classic on the preparation and delivery of expository sermons. Much has changed, however, in twenty years and Robinson has undertaken the task of updating his work to benefit a new generation of preachers who will speak to a markedly different world.
While retaining the original outline of the book and Robinson's ten-stage process of sermon development, this new edition offers significant improvements. Many of the illustrations and arguments have been updated, the prose has been changed to gender-inclusive language, each chapter is enhanced with suggestions for further study, and the discussions of narrative and inductive preaching have been expanded.
About the Author
Haddon W. Robinson (Ph.D., University of Illinois) is the Harold John Ockenga Distinguished Professor of Preaching at Gordon-Conwell Theological Seminary. Previously, he was president and professor of homiletics at Denver Seminary after teaching homiletics at Dallas Theological Seminary for nineteen years.
Endorsements
Still the preaching primer of choice! No book offers a better walk-through of the process for preparing and delivering expository sermons.