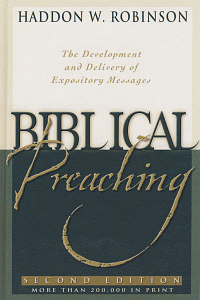 Biblical Preaching
The Development and Delivery of Expository Messages
Highlights
An updated version of Robinson's best-selling textbook on preaching
More than 200,000 in print
Currently being used as a text for preaching in 120 seminaries and Bible colleges throughout the world
Product Details
Haddon Robinson's Biblical Preaching has become a modern classic on the preparation and delivery of expository sermons. Much has changed, however, in twenty years and Robinson has undertaken the task of updating his work to benefit a new generation of preachers who will speak to a markedly different world.
While retaining the original outline of the book and Robinson's ten-stage process of sermon development, this new edition offers significant improvements. Many of the illustrations and arguments have been updated, the prose has been changed to gender-inclusive language, each chapter is enhanced with suggestions for further study, and the discussions of narrative and inductive preaching have been expanded.
About the Author
Haddon W. Robinson (Ph.D., University of Illinois) is the Harold John Ockenga Distinguished Professor of Preaching at Gordon-Conwell Theological Seminary. Previously, he was president and professor of homiletics at Denver Seminary after teaching homiletics at Dallas Theological Seminary for nineteen years.
Endorsements
Still the preaching primer of choice! No book offers a better walk-through of the process for preparing and delivering expository sermons.
Robinson's sermonic method is remarkably complete... The exercises at chapter ends should prove helpful to homiletical teachers as well as those who would like to refresh themselves in the basics. Biblical Preaching will be a welcome addition to many pastors' libraries.
If there is one unique quality of this book that surpasses all the rest, it is that Robinson knows how to think along with God, and he knows how to teach others to do the same... He has a way of nailing his ideas right onto your heart.
Biblical Preaching balances the practical how-to with sound homiletical theory. Ten sermon preparation stages surface that are content-oriented and follow the process of sermon-making from start to finish. . . . Robinson's analogies and picturesque language, sprinkled with intelligent humor, produce a painless learning experience.
Its continued acceptance by a broad audience . . . gives evidence of its potential contribution to students and seasoned preachers.
Biblical Preaching brims with homiletic wisdom from a master of the art. Robinson not only shares insight about exegeting passages for preaching, he also provides many strategies on how to communicate scripture in the beneficial manners. . . . Whether a preacher is a neophyte or a seasoned veteran, this homiletical handbook rewards its readers thirty- and sixty- or even a hundredfold.
It is biblical in its premise, practical in its purpose, and motivational in its power. . . . A book which every preacher should read, mark, learn, and inwardly digest.