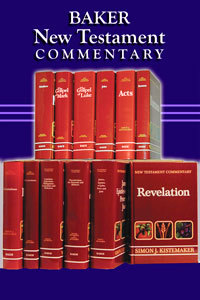 Baker New Testament Commentary
Highlights
This award-winning, twelve-volume set is the only available commentary from a Reformed perspective that covers the entire New Testament
Offers fresh translation and critical notes on the Greek text
Verse-by-verse comments and applications
Full and complete edition
Four of the volumes compiled by Kistemaker earned the ECPA Gold Medallion Award: Hebrews, James and 1-3 John, Acts, and 1 Corinthians
Named as one of the 850 Books for Biblical Expositors by the Master's Seminary
Product Details
Baker New Testament Commentary is composed for the benefit of serious Bible students and pastors who want the insight of quality evangelical scholarship communicated with clarity. Each volume offers fresh translation, repetition of the text before each exegetical unit, verse-by-verse comments and applications, critical notes on the Greek text, and chapter summaries. Extensive bibliographies and indexes of authors, Scripture, and other ancient writings enhance the usefulness of each volume.
Begun by William Hendriksen, Baker New Testament Commentary has earned the acclaim and respect of Reformed and evangelical scholars and pastors. Since Hendriksen's death in 1982, the series has been continued by Simon J. Kistemaker. The series was completed in 2001 with the publication of Revelation. Now, for the first time, the entire twelve-volume set may be purchased by pastors, church libraries, and serious students of the Bible.
About the Authors:

William Hendriksen, Th.D., Princeton Theological Seminary, was professor of New Testament literature at Calvin Theological Seminary.
Simon Kistemaker is a distinguished New Testament scholar and Professor Emeritus of New Testament at Reformed Theological Seminary. He holds a doctorate from the Free University of Amsterdam. Four of the seven volumes in the Baker New Testament Commentary written by Dr. Kistemaker, received the Gold Medallion Evangelical Book of the Year Award. Dr. Kistemaker has written several other books including The Parables of Jesus and The Gospels in Current Study, numerous scholarly articles, and contributions to various reference volumes, including the New Geneva Study Bible. As past president of the Evangelical Theological Society, he also served as its secretary for more than ten years. His international travel is extensive, including speaking and teaching in various countries.
Endorsements
If you own the New Testament Commentaries . . . nothing more needs to be said. If you do not own them, you should—that is, if you are a serious student of Scripture.
The Bible student who possesses [these] commentaries can dispense with many other books.
A well-written conservative Reformed commentary.
Conservative, deserves a place on every pastor's bookshelf.