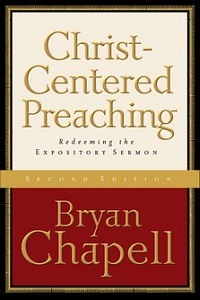 Christ-Centered Preaching
Redeeming the Expository Sermon
Highlights
Named by the R. C. Ryan Center for Biblical Studies as one of the Best Tools for Preaching and Teaching
Product Details
A complete perspective on expository preaching that teaches the basics of preparation, organization, and delivery—the trademarks of great preaching. With the help of charts and creative learning exercises, Chapell shows how expository preaching can reveal the redemptive aims of Scripture and offers a comprehensive approach to the theory and practice of preaching. He also provides help for special preaching situations.
The second edition contains updates and clarifications, allowing this classic to continue to serve the needs of budding preachers. Numerous appendixes address many practical issues.
About the Author:
Dr. Bryan Chapell has been president of Covenant Theological Seminary in St. Louis, Missouri since 1994. His insightful Bible teaching can be heard daily via the Internet on Living Christ 360.
Raised in Memphis, Tennessee, Dr. Chapell was a pastor for approximately ten years before joining the faculty of Covenant Seminary, the seminary of the Presbyterian Church in America in 1985. He served the Seminary for six years as vice president for academics and dean of faculty before becoming president in 1994. He has been active in a variety of leadership roles in the PCA and in cooperative ministries with numerous other national and international Christian ministries.
Dr. Chapell is a renowned preacher, teacher, and speaker who is much sought after by churches, colleges, seminaries, and conferences throughout this country and abroad. He is the author of many articles and numerous books, including Praying Backwards: Transform Your Prayer Life by Beginning in Jesus' Name, Why Do We Baptize Infants?, Holiness by Grace, I'll Love You Anyway & Always, Each for the Other and The Wonder of It All.
Endorsements
An outstanding tool for students of homiletics. It is the best I have seen on this subject.
Preaching that conforms to the pattern set here will certainly be edifying.
Christ-Centered Preaching is a thoughtful, balanced, and helpful guide to what expository preaching in the Reformed tradition has been, can be, and needs to be again. The last part, dealing with 'a theology of Christ-centered messages,' is a substantially new contribution and much needed.
This is an outstanding book that will be of interest to anyone committed to biblical preaching. Chapell has provided a solid yet contemporary approach to expository preaching, something that is much needed in today's congregations. I share with him the belief that contemporary congregations are open to expository preaching models provided they are done well and with an emphasis on practical application. Chapell offers exactly such a model, and I recommend it with enthusiasm. In fact, I plan to use this material when I teach expository preaching.
This book offers an interesting new approach, placing emphasis on one's fallen condition and Christ's redemptive answer as the basis for preaching. There is much that is not only suggestive but also helpful. I believe this book will do much good. The author writes clearly and well.
The entire book is outstanding, but at the risk of seeming to downplay the first part of the book, I want to tell you that the last two chapters are more than worth the price. Those chapters ought to be required reading for every pastor, not to mention every Navigator and Campus Crusade staff worker in America.
This is the best book on expository preaching I have read since Haddon Robinson's Biblical Preaching. . . . [It] will be in the classrooms and on the desks of preachers for years to come.
This is a great book. Christ-Centered Preaching will make a difference to generations of seminary students and to generations of Christians who will hear them preach. Christ is the message of preachers, and this book will enable preachers to lift him up in ways that will change lives. Clear, concise, and relevant, this is a book that will revitalize what happens in the pulpit. Use it. It will make a difference.