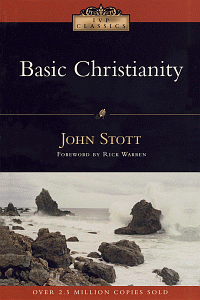 Highlights
Over 2.5 million copies sold
Great for those searching for the truth in Christ
Product Details
"If Jesus was not God in human flesh, Christianity is exploded," writes John Stott. "We are left with just another religion with some beautiful ideas and noble ethics; its unique distinction is gone."
Who is Jesus Christ? If he is not who he said He was, and if He did not do what He said He had come to do, the whole superstructure of Christianity crumbles in ruins to the ground. Is it plausible that Jesus was truly divine? And what might this mean for us?
John Stott's clear, classic statement examines the historical facts on which Christianity stands. Here is a sound, sensible guide for all who seek an intellectually satisfying explanation of the Christian faith.
About the Author
John Robert Walmsley Stott was born in London in1921. Stott was sent to boarding school at eight years old — initially prep school at Oakley Hall. In 1935, he went on to Rugby School. While at Rugby School in 1938, John heard Rev. Eric Bash deliver a sermon entitled, What Then Shall I Do with Jesus, Who Is Called the Christ? After this talk, Bash pointed John to Revelation 3:20, "Behold, I stand at the door, and knock: if any man hear my voice, and open the door, I will come in to him, and will sup with him, and he with me." Stott later described the impact this verse had upon him as follows: "Here, then, is the crucial question which we have been leading up to. Have we ever opened our door to Christ? Have we ever invited him in? For, intellectually speaking, I had believed in Jesus all my life, on the other side of the door. I had been baptized, yes and confirmed as well. I went to church, read my Bible, tried to be good and do good. I knew that to open the door might have momentous consequences. I am profoundly grateful to him for enabling me to open the door. Looking back now over more than fifty years, I realise that that simple step has changed the entire direction, course and quality of my life."
Stott was mentored by Bash, who wrote a weekly letter to him, advising him on how to develop and grow in his Christian life, as well as practicalities such as leading the Christian Union at his school. Stott studied modern languages at Trinity College, Cambridge where he graduated with a double first in French and Theology. After this, he transferred to Ridley Hall Theological College, Cambridge, so he could become ordained as an Anglican clergyman. Stott was ordained in 1945 and went on to become a curate at All Souls Church, Langham Place (1945-1950) then rector (1950-75).
Stott played a central role at two landmark events in the history of British evangelicalism. He was chairing the National Assembly of Evangelicals in 1966, a convention organised by the Evangelical Alliance, when Martyn Lloyd-Jones made an unexpected call for evangelicals to unite together as evangelicals and no longer within their 'mixed' denominations. This view was motivated by a belief that true Christian fellowship requires evangelical views on central topics such as the atonement and the inspiration of Scripture. Lloyd-Jones was a key figure to many in the Free Churches, and evangelical Anglicans regarded Stott similarly. The two leaders publicly disagreed as Stott, though not down as a speaker that night, used his role as chairman of the meeting to refute Lloyd-Jones, saying that his opinion went against history and the Bible. The following year saw the first National Evangelical Anglican Congress, which was held at Keele University. At this conference, largely due to Stott's influence, evangelical Anglicans committed themselves to full participation in the Church of England, rejecting the separationist approach proposed by Lloyd-Jones.
In 1970, in response to increasing demands on his time from outside of the All Souls congregation, he appointed a vicar of All Souls, to enable himself to work instead on other projects. In 1975, he resigned as Rector, and the then vicar was appointed in his place—he remained at the church, and was appointed "Rector Emeritus".
He has written 50 books, some of which appear only in Chinese, Korean or Spanish. Stott was appointed a Chaplain to Elizabeth II of the United Kingdom in 1959, and on his retirement in 1991, an Extra Chaplain. He was appointed a Commander of the Order of the British Empire (CBE) in the New Year Honours 2006. He has received a number of honorary doctorates, as well as a Lambeth Doctorate of Divinity. Stott was honored by Time magazine in 2005 as one of the "100 Most Influential People in the World." Stott was also named by Preaching Magazine as one of the Ten Greatest Preachers of the Twentieth Century
He founded the Langham Partnership International (known as John Stott Ministries in the U.S.) in 1974 and the London Institute for Contemporary Christianity in 1982 of which he is now the honorary president. Stott announced his retirement from public ministry in April 2007 at the age of 86. He has taken up residence in a retirement community for Anglican clergy, but he will remain as Rector Emeritus of All Souls Church.
Endorsements
A sound, sensible guide for those who are seeking a more intellectually satisfying presentation of the Christian faith.
John Stott's disarming introduction to personal faith is a modern classic. Long life to it!