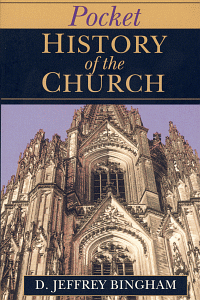 Pocket History of the Church
Highlights
Outlines church history from the time immediately following the apostles through the Middle Ages, the Reformation, and the Modern era
Includes notes on references used and an extensive bibliography for further study
Traces political, cultural, and scientific events that have impacted the Church through the centuries
Product Details
The story of Christianity is a fascinating tale. Here we find drama, vision and expansion along with failures, setbacks and tragedy. Yet, in these past two thousand years the power of Jesus is still felt throughout the interplay of human actors and the forces of world events.
How do we begin to grasp the action played out on such a gigantic screen? This book is the ideal place to start. D. Jeffrey Bingham has skillfully selected the key people and episodes to tell a grand and humbling story. From Roman persecution to the early creeds, from the monastic movement to the Reformation, from the rise of liberalism to missionary expansion, he chronicles the ups and downs of a people and a faith.
This pocket history has been crafted for students, pastors, and other busy people who want an informed, clear and concise presentation that feeds the mind and moves the heart. It is an account that nurtures the Christian virtues of faith, hope and love. Bingham aims not only to uncover the treasures of the church's past but to show how history aids us in our own spiritual journeys today.
About the Author:
D. Jefferey Bingham, is Department Chair and Professor of Theological Studies at Dallas Theological Seminary. He earned his B.B.A., New Mexico State University, 1982; Th.M., Dallas Theological Seminary, 1986; and Ph.D., 1995.
Dr. Bingham specializes in the study of early Christianity. He has written extensively on the early Christian church and his articles and essays have appeared in leading literary journals. Before joining the faculty of Dallas Seminary he pastored a church in West Texas and taught at several Christian colleges. He also has served as assistant dean for theological studies at Southwestern Baptist Theological Seminary.
Endorsements
Professor Binghan's Pocket History is well informed and clearly written, a wonderful introduction to the history of Christianity. Specialists will debate the finer points of the story that he tells. But this is now the best survey of church history that one can read in a single sitting.