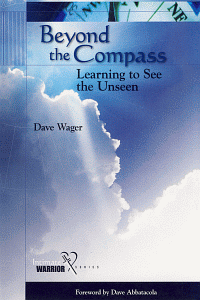 Beyond the Compass
Learning to See the Unseen
Highlights
Part of the Intimate Warrior Series
Practical Help for spending quality time with God
"True North" points punctuate each devotional thought
Product Details
Proverbs 3:5 Trust in the LORD with all your heart; do not depend on your own understanding.
Satan's greatest weapon in the war against humankind is deception. Because he is older than we are and smarter than we are, he often uses his experience and know-how to encourage us to adamantly believe that we are going in the right direction when in fact we are headed down a path toward destruction. Each of us, no matter how disciplined, has a tendency to lie to ourselves; to not see clearly what is really going on; to spin facts and details to match our own (limited) understanding; to think that we are headed north when we are really going south.
What an intimate warrior must do is meet with our King on a regular basis and learn to accept and apply what He says, for He alone cannot and will not be fooled. God alone is our "true north"; all other directions in life can and ultimately must be evaluated by His absolutes. In short, we must move beyond the compass and make God the only direction and goal in our lives.
This book is designed to help you hear the voice of God and, possibly, to see what you have never seen before. There are twenty-one days worth of Scripture passages and short commentaries in this book to help you draw near to God. There is no way you can even begin to understand the incomprehensible without long periods of tremendous pondering. Satan will do all he can to keep you from meeting with God, because your intimacy with God and your obedience to God are the only things Satan really fears.
About the Author
For the past twenty-five years, Dave Wager has served as a leader, friend, and teacher to thousands who have entered the educational grounds of Silver Birch Ranch in White Lake, Wisconsin. Today Dave continues to serve as the president of Silver Birch Ranch, and also teaches at camps, conferences, churches, and businesses throughout the world. He is Founder of The Omega Force, an international membership group dedicated to intimacy with God.
Dave's life has been dedicated to the growth of young people, first as a volunteer youth worker and then later as a fifth-grade teacher. He has served as president of the Wisconsin Christian Camping Association and currently teaches a class in "Christian Life and Ethics" at the Nicolet Bible Institute. Dave holds a B.A. from Wheaton College and an M.S. Ed. from Northern Illinois University.
Dave desires that each person he meets walk intimately with God and fulfill the purposes for which he or she was designed. He believes that joy and effectiveness in life, work, and ministry come from knowing what really matters. His focus is in examining how today's choices affect the real bottom line: knowing what we are about, what are our responsibilities, and what are God's responsibilities.
Endorsements
...develops eyes to see what we otherwise would miss: the work of God in each of our days.
...helps me think outside the box but never outside the Truth.
...readable thoughts on Christian life and practical theology.
...practical, challenging, and riddled with inspiration.
...points us in the right direction.