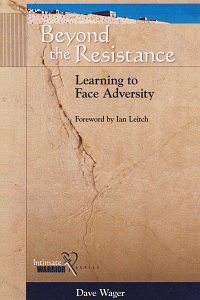 Beyond the Resistance
Learning to Face Adversity
Highlights
Written for the Christian leader who would like to sit, think, and pray about what is next for the organization that he or she leads
Traces the book of Nehemiah for guidelines in leadership and responses to turbulent times
Formatted as a three-week meditation guide to facilitate meditation and prayer
Product Details
Many people are involved in nonprofit Christian organizations. In these positions, they encounter the many unique challenges of nonprofit leadership.
How do those who are Christian leaders differ from those who are not? Why do we operate nonprofits? What do we hope to get from our efforts?
The following thoughts were written for the Christian leader, pastor, lay leader, or corporate officer who would like to sit, think, and pray about what is next in the organization he or she leads. This three-week meditation guide is intended to facilitate just that, acting as a catalyst for meditation and prayer for the Christian leader.
Whatever the task God has placed on your heart, He also has a plan. He is older than you, smarter than you, and loves you; you can trust Him.
About the Author
For the past twenty-five years, Dave Wager has served as a leader, friend, and teacher to thousands who have entered the educational grounds of Silver Birch Ranch in White Lake, Wisconsin. Today Dave continues to serve as the president of Silver Birch Ranch, and also teaches at camps, conferences, churches, and businesses throughout the world. He is Founder of The Omega Force, an international membership group dedicated to intimacy with God.
Dave's life has been dedicated to the growth of young people, first as a volunteer youth worker and then later as a fifth-grade teacher. He has served as president of the Wisconsin Christian Camping Association and currently teaches a class in "Christian Life and Ethics" at the Nicolet Bible Institute. Dave holds a B.A. from Wheaton College and an M.S. Ed. from Northern Illinois University.
Dave desires that each person he meets walk intimately with God and fulfill the purposes for which he or she was designed. He believes that joy and effectiveness in life, work, and ministry come from knowing what really matters. His focus is in examining how today's choices affect the real bottom line: knowing what we are about, what are our responsibilities, and what are God's responsibilities.
Endorsements
...counsel for a leader who practices what he preaches. And the format of the book encourages aspiring leaders to spend time reflecting on what they've read.
...brilliantly challenges leaders of our time to the cost of true effective Kingdom leadership.
...guide for the Christian leaders who need to think and pray about what is next for the organization they lead.
If ever there was a book that leaders in God's work should read, it is Beyond the Resistance.