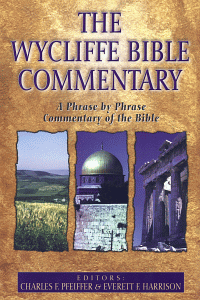 Wycliffe Bible Commentary
Highlights
Theologically conservative
A King James Version based phrase-by-phrase commentary
Named as one of the 850 Books for Biblical Expositors by the Master's Seminary
Product Details
You love God. You long to know Him more intimately, to see Him face-to-face. Now is the time to dig deeper into the Scriptures, to see the Bible come alive for you: chapter-by-chapter, sentence-by-sentence, word-by-word.
This powerful handbook walks you, phrase-by-phrase, through the entire text of the Old and New Testaments. From the majestic Genesis account of all the Creator brought into being to Christ's words at the end of Revelation ("Yea, I come quickly..."), you'll find insights to help you wrap your heart and mind around God's Word in the pages of The Wycliffe Bible Commentary.
About the Editors:
Everett Harrison received his B.A. from the University of Washington, M.A. from Princeton University, Th.B. from Princeton Seminary, Th.D. from Dallas Theological Seminary, and Ph.D. from the University of Pennsylvania. Dr. Harrison served as a missionary in China and as a Presbyterian minister in Pennsylvania, though most of his work was in the classroom. He taught both at Dallas Theological Seminary and Fuller Theological Seminary.
Charles F. Pfeiffer was professor of ancient literatures at Central Michigan University. He graduated from Moody Bible Institute and held a B.A. from Temple University, a B.D. from Reformed Episcopal Theological Seminary, a Th.M. from Chicago Lutheran Theological Seminary, and a Ph.D. from Dropsie College for Hebrew and Cognate Learning. He also studied at the University of Chicago's Oriental Institute and New York University. He previously served on the faculties of Gordon Divinity School, King's College, Lancaster School of the Bible, and Moody Bible Institute. The late Dr. Pfeiffer, as author or editor, participated in the production of many works.