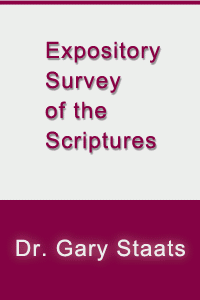 Expository Survey of the Scriptures
Product Details
The Expository Survey of the Scriptures presents the background and study of each book of the Bible looking at authorship, date, theme, historical background, purpose, the flow of thought of each book, followed by a detailed expository outline of each book of the Bible. The flow of thought and the detailed outline of each biblical book will serve as a help for pastors in preaching and teachers in the exposition of Scripture to others.
In addition, there is a brief outline of the Bible around twelve periods for the Old Testament and two for the New, arranging the books of the Bible in a time frame with dates and themes for each book. Also included is an outline of the Christology of each book of the Old Testament as seen through New Testament lenses. The Christological outline will assist pastors and teachers in their devotion, preaching, and teaching of the study of Jesus Christ in the Bible so that Christ can be magnified and glorified.
About the Author
Dr. Gary Staats is the Gale and Harriette Ritz professor of Old Testament at Winebrenner Theological Seminary in Findlay, Ohio. He received his Bachelor of Arts degreee in Bible at Southeastern Bible College in Birmingham, Alabama in 1963; his ThM in New Testament Greek from Dallas Theological Seminary in 1967; his ThD in Biblical Studies from DTS in 1971; and his Master of Arts in Hebrew and Ancient Near Eastern languages at Dropsie College of Hebrew and Cognate Learning in Philadelphia, Pennsylvania in 1983. He completed his PhD in Hebrew and Near Eastern Languages at New York University in 1989. Dr. Staats has been a professor and pastor for many years, serving at various schools and in numerous pastorates.