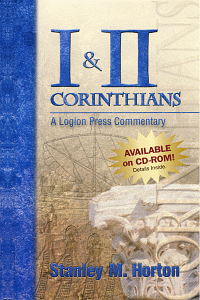 1 & 2 Corinthians
A Logion Press Commentary
Product Details
In addition to a strong emphasis on edification of the church through spiritual gifts, Paul's letters to the church at Corinth deal directly with problems facing us today. Dr. Stanley M. Horton takes an in-depth look at the history, customs, word meanings, and contemporary application of Paul's writings to the church at Corinth.
About the Author
Stanley M. Horton was born in 1916 and has enjoyed a multi-decade career as an educator and theological writer for the Assemblies of God and the international Pentecostal community. He is Distinguished Professor Emeritus of Bible and Theology at the Assemblies of God Theological Seminary, Springfield, Missouri where he taught from 1978-1991. Prior to that, he served as chair of the Bible Department at Central Bible College from 1948-1978.
His writings have appeared in publications as diverse as The Encyclopedia Americana and The Full-Life Study Bible. His degrees include an M. Div. from Gordon-Conwell Theological Seminary, an S.T.M. from Harvard University, and a Th.D. from Central Baptist Theological Seminary.
At age 92, Dr. Horton continues to travel the world as a lecturer. He has authored dozens of books and manuals, and he has published more than 250 articles and book reviews. He has been listed in Who's Who in Religion and Outstanding Educators of America.