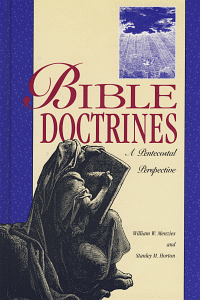 Bible Doctrines: A Pentecostal Perspective
This title works with the following Wordsearch products
Desktop
Product Details
Bible Doctrines: A Pentecostal Perspective examines 16 major Bible doctrines substantiated with numerous Scripture references. Topics include the inspired Scriptures, one true God, deity of the Lord Jesus Christ, divine healing, salvation of man, fall of man, baptism in the Holy Ghost, and new heavens and new earth.
About the Authors

Dr. William W. Menzies, president-emeritus and chancellor of Asia Pacific Theological Seminary in the Philippines, is also a highly respected author and teacher. He served as chair of the Biblical Studies Department at Evangel from 1970-1980. He was co-founder and the first president of the Society for Pentecostal Studies from 1970-1971.
He was one of the editors for the Life in the Spirit Study Bible. He has been a consulting editor for Christianity Today and the first editor of Pneuma. He is also the author of nine books. Throughout his career, he has also served on numerous committees pertaining the theological issues, including chairing the Commission on Doctrinal Purity for the Assemblies of God (1988-1990), and the Roman Catholic–Pentecostal Dialogue in Venice, Italy (1993). Menzies has taught at all three schools of the Assembles of God church: Central Bible College, Evangel College and Assemblies of God Theological Seminary.
Stanley M. Horton, Th.D., born 1916, has enjoyed a multi-decade career as an educator and theological writer for the Assemblies of God and the international Pentecostal community. He is Distinguished Professor Emeritus of Bible and Theology at the Assemblies of God Theological Seminary, Springfield, Missouri where he taught from 1978-1991. Prior to that, he served as chair of the Bible Department at Central Bible College from 1948-1978.
His writings have appeared in publications as diverse as The Encyclopedia Americana and The Full-Life Study Bible. His book, What the Bible Says About the Holy Spirit, 1976, has long been the definitive text on that topic in universities and seminaries around the world.. His degrees include an M. Div. from Gordon-Conwell Theological Seminary, an S.T.M. from Harvard University, and a Th.D. from Central Baptist Theological Seminary.
At age 92, Dr. Horton continues to travel the world as a lecturer. He has authored dozens of books and manuals, and he has published more than 250 articles and book reviews. He has been listed in Who's Who in Religion and Outstanding Educators of America.