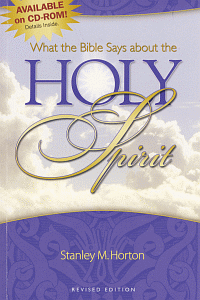 What the Bible Says about the Holy Spirit
Revised Edition
Product Details
In this comprehensive, intensive study you will go beyond learning the Spirit's titles and symbols to a positive evangelical and Pentecostal perspective of His personality, deity, gifts, and fruits. You'll join one of the most respected scholars of our day as he analyzes the Holy Spirit's role in:
the Old Testament - specifically the Pentateuch, history of Israel, and prophecies
the life, ministry, and teachings of Jesus
the ministry of believers and of the Church
supernatural demonstrations
everyday living
the world today
About the Author
Stanley M. Horton was born in 1916 and has enjoyed a multi-decade career as an educator and theological writer for the Assemblies of God and the international Pentecostal community. He is Distinguished Professor Emeritus of Bible and Theology at the Assemblies of God Theological Seminary, Springfield, Missouri where he taught from 1978-1991. Prior to that, he served as chair of the Bible Department at Central Bible College from 1948-1978.
His writings have appeared in publications as diverse as The Encyclopedia Americana and The Full-Life Study Bible. His degrees include an M. Div. from Gordon-Conwell Theological Seminary, an S.T.M. from Harvard University, and a Th.D. from Central Baptist Theological Seminary.
At age 92, Dr. Horton continues to travel the world as a lecturer. He has authored dozens of books and manuals, and he has published more than 250 articles and book reviews. He has been listed in Who's Who in Religion and Outstanding Educators of America.
Endorsements
As you read and study the contents of Dr. Horton's writings, you will come to a deeper and fuller revelation of the Holy Spirit's ministry in your own life. It is a book that can be given to others so that they might more fully understand and enjoy the work, teachings, and giftings of the Holy Spirit.