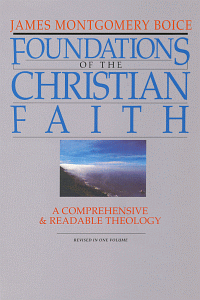 Foundations of the Christian Faith
A Comprehensive & Readable Theology
Highlights
Four volumes now together in one book
Great for students, pastors, teachers and laypeople alike
Product Details
In one systematic volume James Boice provides a readable overview of Christian theology. Students and pastors will benefit from this rich resource that covers all the major doctrines of Christianity.
With scholarly rigor and a pastor's heart, Boice carefully opens the topics of the nature of God, the character of his natural and special revelation, the fall, and the person and the work of Christ. He then goes on to consider the work of the Holy Spirit in justification and sanctification. The book closes with careful discussion of ecclesiology and eschatology.
In this revised edition of a formerly four-volume work, Boice maintains a remarkable practicality and thoroughness that will make this a standard reference and text for years to come.
About the Author
Dr. James Montgomery Boice was senior pastor of the historic Tenth Presbyterian Church in Philadelphia, Pennsylvania. He was also the president and co-founder of the Alliance of Confessing Evangelicals, the parent organization of The Bible Study Hour, on which Boice was a speaker for more than thirty years. In addition to his Expositional Commentaries, he has published numerous books including: Hearing God When You Hurt, Mind Renewal in a Mindless Christian Life, Standing on the Rock, The Parables of Jesus, The Christ of Christmas, The Christ of the Open Tomb, and Christ's Call to Discipleship.