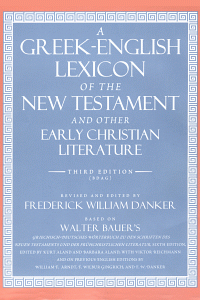 A Greek-English Lexicon of the New Testament (BDAG)
And Other Early Christian Literature
This title works with the following Wordsearch products
Desktop
Highlights
The standard for Bible Colleges and Seminaries for Greek classes
Actual definitions of each Greek word
Papyrological and Epigraphic sources
25,000 new references with a more consistent mode of citations
Named as one of the 850 Books for Biblical Expositors by the Master's Seminary
Named one of the Best 100 Christian Books Ever Written by Frank Viola
Product Details
Whether you are a student just entering Bible College or Seminary or a preacher wanting to add spice to his sermon the BDAG Lexicon is the must have tool for you in your library.
Described as an "invaluable reference work" (Classical Philology) and "a tool indispensable for the study of early Christian literature" (Religious Studies Review) in its previous edition, this new updated American edition of Walter Bauer's Griechisch-deutsches Worterbuch zu den Schriften des Neuen Testaments und der fruhchristlichen Literatur builds on its predecessor's staggering deposit of extraordinary erudition relating to Greek literature from all periods. Including entries for many more words, the new edition also lists more than 25,000 additional references to classical, intertestamental, Early Christian, and modern literature.
In this edition, Frederick W. Danker's broad knowledge of Greco-Roman literature, as well as papyri and epigraphs, provides a more panoramic view of the world of Jesus and the New Testament. Danker has also introduced a more consistent mode of reference citation, and has provided a composite list of abbreviations to facilitate easy access to this wealth of information.
Perhaps the single most important lexical innovation of Danker's edition is its inclusion of extended definitions for Greek terms. For instance, a key meaning of "episkopos" was defined in the second American edition as overseer; Danker defines it as "one who has the responsibility of safeguarding or seeing to it that something is done in the correct way, guardian." Such extended definitions give a fuller sense of the word in question, which will help avoid both anachronisms and confusion among users of the lexicon who may not be native speakers of English.
History of the Lexicon
The rich history of BDAG gets its start with Walter Bauer's revisions of Erwin Friedrich Wilhelm Ferdinand Preuschen's Vollstadiges griechisch-deutsches Handwoterbuch zu den Schriften des Neuen Testament und der ubringen Urchristlichen Literatur. Bauer published the work as Griechisch-deutsches Wöoterbuch zu den Schriften des Neuen Testaments und der ubringen Urchristlichen Literatur and was revised several times until 1952. Then in 1957, University of Chicago professors William Frederick Arndt and Felix Wilbur Gingrich published the first English edition, which became known as BAG as an acronym of the contributors to the Lexicon. A second edition published in 1979, of which University of Chicago Professor Frederick William Danker replaced Arndt on the team because his death in 1957. The second edition became known as BAGD. Finally in 2000, largely due to work by Danker and from the Wöterbuch sixth German edition (based on Bauer's work), the third edition was published and became known as BDAG. The third edition replaces the English glosses of the second edition with the actual definitions of each Greek word.
Endorsements
So buy BDAG (sell your car if necessary!) and learn to use it. You will not regret your purchase.