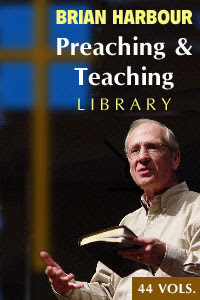 Brian Harbour Preaching & Teaching Library
Highlights
Features Notable Harbour In-Depth Studies, Notable Harbour Verse-by-Verse Studies, Notable Harbour Audio Sermons, Notable Harbour Quotations, and Notable Harbour Illustrations and Notable Harbour Doctrine Collection
Product Details
This collection features the best of pastor Dr. Brian Harbour's supply of preaching and teaching helps. Harbour is a pastor, author, Bible scholar, seminary professor, and popular speaker. Over the past three decades, Harbour has assembled these excellent tools for anyone involved in ministry or personal Bible study.
Here's what's included:
In-Depth Bible Studies - 8 Volumes
Harbour takes you deep into the books of Joshua, Romans, 1 Corinthians, 2 Corinthians, 1 Thessalonians, 2 Thessalonians, Hebrews, and Jude. Included are 110 full-length studies.
Verse-by-Verse Studies - 10 Volumes
These 10 volumes contain 130 full-length studies on the books of Galatians, Ephesians, Philippians, Colossians, 1 Timothy, 2 Timothy, Titus, James, 1 Peter, and 1 John.
Doctrinal Series - 9 Volumes
These 9 volumes include 60 full-length sermons covering the doctrines of the Christian faith, such as the doctrine of: Salvation, God, Man, the Holy Spirit, Revelation, Prayer, Sin, Christ, the Church, and more.
Notable Illustrations and Quotations - 17 Volumes
This helpful collection features the best Illustrations and Quotations from Brian Harbour. With 1,345 Illustrations and Quotations arranged alphabetically, you'll be well-equipped to deliver your sermon or lesson. A full bibliographical information is included for each quote and illustration.
Harbour's works are packed with beautifully written alliterations that you'll find useful for crafting sermons and lessons.
About the Author
Dr. Brian Harbour became the Pastor of First Baptist Church of Richardson in April, 1990. He has been a pastor since 1965, having served in churches in Georgia, Mississippi, Florida, and Arkansas, as well as serving several churches in Texas. He received his bachelor's degree and doctorate in theology from Baylor University. He has authored 15 books, is a much sought-after speaker and conference leader, and is a frequent contributor to periodicals and sermon publications. He is also a permanent contributing editor for Preaching.
Products Included In This Bundle