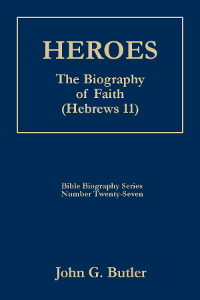 Butler Biography Series - Heroes
Hebrews 11
Product Details
Hebrews 11 is the great faith chapter in the Scriptures. It can rightly be said to be Faith's Hall of Fame. This chapter was written to help Hebrew Christians who were having a rough time in their new Christian lives. Persecution was a big problem for these new Christians in the first century of the church. It was a big change for them to leave Judaism and turn to Christ. They were going from the law to faith. It was not an easy transition and many were tempted to give up this life of faith. But the writer of Hebrews urges them on to live by faith and the eleventh chapter of Hebrews shows that living by faith has been the way of life for the great saints since Abel.
To encourage the Hebrew Christians to live by faith, the writer of Hebrews lists a number of saints of the past ("elders") and shows how they lived by faith. These "elders" are the "heroes" of faith. The incidents which are mentioned of these "heroes" cover every facet of life. And the "heroes" come from all walks of life. This wide coverage of incidents and occupations was to encourage the Hebrew Christians (as well as us) that no matter who you are or what your situation is, you can and should live by faith. These "heroes" of faith are the heroes we need to use as role models. Our role models today are mostly athletes, stage stars, and others, but not heroes of faith.
The Bible Biography Series is a series of books written about various Bible characters by John G. Butler. These books are expository studies of the Scripture. They are extensively organized and outlined and filled with practical applications of Scripture to every day life. They are written in easy-to-under-stand laymen's language, and theologically and morally they take a strong, old-fashioned, fundamentalist position which is increasingly unpopular but greatly needed in our day. These books are very helpful to preachers in providing material for sermons and lessons. They will also provide much instruction for the individual in his or her personal Bible study; and because of their organized structure, they are very adaptable to Sunday School classes and Bible study groups. With this book the Bible Biography Series now consists of twenty-seven books which include books about Joseph, Jonah, Elijah, Elisha, Gideon, Samson, John the Baptist, Peter, Abraham, Lot, Paul, Moses, Joshua, Samuel, David, Nehemiah, Jacob, Hezekiah, Mordecai, Ruth, Daniel, Solomon, Noah, Job, Isaac, Saul, and Heroes (a study of Hebrews 11).
About the Author
John G. Butler has been a Baptist minister for over half a century with "pastorates in Williamsburg, Ohio; Detroit, Michigan; Chicago, Illinois; and Clinton, Iowa. He is a veteran of the United States Navy, attended Tennessee Temple University and graduated from Cedarville University. Butler is also the author of the Bible Biography Series —a twenty-seven volume series about major Bible characters; the Studies of the Savior —a ten volume series about Jesus Christ; and, the Daily Bible Reading—a unique four volume devotional series that emphasizes expository Bible study.
Endorsements
John Butler has produced a powerful and practical series on the lives of biblical characters. These expository books are thoroughly organized and outlined, and will help preachers and Bible teachers in preparing sermons or lessons. You will be blessed by the author's alliterative style, which stamps every message with a subtle, poetic flair.
John Butler has a God-given talent for Scripture outlining and alliteration. His clear writing style and ability to uncover biblical truth is superb. Every page is literally packed with illustrations that are easy to teach and preach.
Tremendously well researched, well written and immensely practical.
I know of no one better qualified to write on biblical personalities. Your studies are the best.