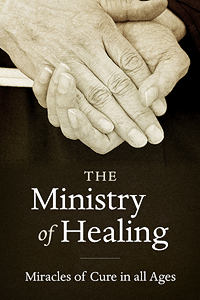 The Ministry of Healing
Miracles of Cure in all Ages
Product Details
Originally published in 1873, A. J. Gordon's classic work surveys church history and documents the fact that divine healing through supernatural means in the name of Christ never completely vanished from the Christian church. He proposes belief in miraculous healings despite people's skepticism and convictions that healings were confined to the age of the apostles.
About the Author

Adoniram Judson Gordon was born in New Hampshire on April 13, 1836. A.J. was named after Adoniram Judson, a Baptist missionary to Burma who had recently completed a Burmese translation of the Bible.
Gordon experienced a Christian conversion at age 15 and thereafter sought to become a pastor. He graduated from Brown University in 1860 and Newton Theological Institution in 1863. In 1863, he married Maria Hale and became pastor of Jamaica Plain Baptist Church in Roxbury, Massachusetts. In 1869, he became pastor of Clarendon Street Baptist Church in Boston, a fairly affluent church. Under Gordon's leadership, Clarendon Street Church was described as "one of the most spiritual and aggressive in America". He became a favored speaker in evangelist Dwight L. Moody's Northfield conventions.
In 1889, with the help and backing of Clarendon Street Church, he founded Gordon Bible Institute and served as its first president. His wife, Maria, was secretary and treasurer until 1908. Gordon's school was mainly to train missionaries for work in the Congo.
Gordon edited two hymn books and wrote the hymn tunes for at least fifteen hymns, including "My Jesus, I Love Thee," a hymn that has been included in nearly every evangelical hymnal published from 1876 to the present time. Gordon became suddenly ill with influenza and bronchitis and died at age 59 on February 2, 1895. He is buried in Forest Hill Cemetery. A son, Ernest Barron Gordon, published a biography of his father in 1896, titled Adoniram Judson Gordon, it is a biography with letters and illustrative extracts drawn from unpublished or uncollected sermons and addresses and is still in print today.
Endorsements
An interesting and thoughtful work, Dr. Gordon marshals together witnesses from all ages and all classes in favor of his belief that cures may still be wrought through prayer