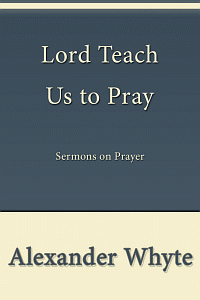 Lord Teach Us to Pray
Sermons on Prayer
Product Details
"Lord, teach us to pray!" Alexander Whyte declared this one Sunday morning in the dead of the winter of 1895, quoting Luke 11:1. This was the start of a long sermon series on the subject of prayer, ranging from the prayers of Jacob to Paul's prayers and thanksgivings. This collection of powerful sermons all relate back to the central theme of Luke 11:1. Whyte's vivid use of imagination and emphasis on the text brings forth a message of hope and relevance that draws life from the Scriptures.
About the Author
Alexander Whyte was born at Kirriemuir in Forfarshire in 1836 and educated at the University of Aberdeen and at New College, Edinburgh. After four years as assistant minister at Free St. John's, Glasgow, 1866-1870, he became the minister of the United Free Church of Scotland at the Church of St George's in Edinburgh from 1870-1916.
Whyte was a Calvinist in theology and a Puritan in his piety. His appearance in the pulpit was as arresting and impressive as the preaching itself, which attracted people of every class and kind. A deep appreciation of God's grace to save sinners gave him rare passion and power. A dramatic quality captivated his congregations with its depth of spiritual fervor. Whyte also had a breadth of culture, he lectured on Dante and corresponded with Newman, not often found in evangelicals of his day.
Alexander Whyte was regarded as the finest preacher of late-Victorian Scotland. In 1909 he became principal of New College and his presence at the Edinburgh Conference of 1910 influenced the beginnings of the Ecumenical Movement. Whyte continued his role at New College until 1918, three years before his death in 1921.
Endorsements
Whyte is an Edinburgh pastor who prayed as much and as well as he preached. Not all pastors pray. There is a great irony here: the very persons assigned responsibility in the Christian community for teaching and leading Christians in prayer are often personally prayerless. Whyte prayed. Immensely learned and energetic, he centered all his learning and energy on a life of prayer, suffused with a spirit of prayer.