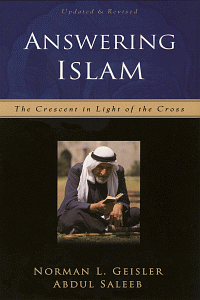 Answering Islam
The Crescent in Light of the Cross
Product Details
What are the fundamental beliefs of Islam and how can Christians respond to them?
Answering Islam evaluates the claims of orthodox Islam and examines the evidence for the Christian counterclaim, preparing you with strong apologetic answers. This revised edition contains more resources and updated information throughout.
About the Authors

Norman L. Geisler earned his Ph.D. at Loyola University of Chicago. He is a co-founder and former dean of Southern Evangelical Seminary. Geisler is the author/co-author of some seventy books and hundreds of articles. He has taught theology, philosophy, and apologetics on the college and graduate level for fifty years. He has been a professor at some of the top Seminaries in the United States, including Trinity Evangelical and Dallas Seminary, and has been a guest at numerous other schools. Geisler has spoken in over twenty six countries on six continents. He and his wife Barbara live in the Charlotte, North Carolina area. He maintains an active writing, speaking, and lecturing ministry across the country.
Abdul Saleeb, (pseudonym), came to trust in Christ on January 20, 1985. Soon after his conversion he decided to dedicate his entire life to promoting the Good News of Christ among Muslims and especially the people of his home country. Saleeb came to the United States and received his undergraduate and graduate degrees in Biblical and Theological Studies. He currently resides in the U.S. working as a missionary.
Endorsements
This book is a must for everyone concerned about defending the Christian faith. Dr. Geisler and his coauthor, a former Muslim, have given one of the most comprehensive expositions and most complete evaluations of Islam in print.
Answering Islam is a valuable tool for those wrestling with the theological barriers that separate one billion Muslims from personal faith in Jesus Christ.
The Muslim presence in the United States continues to grow. It is important that we have a clearly written and fairly presented statement of what Muslims believe and how we as Christians may present the claims of Christ to them in a persuasive and loving way.
This book is a theological masterpiece, the most lucid and comprehensive theological analysis and critique of Islam from a Christian perspective I have ever seen. It is invaluable as a tool for understanding the most serious religious challenge to Christianity in the modern world.