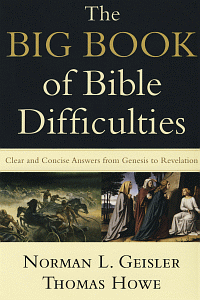 The Big Book of Bible Difficulties
Clear and Concise Answers from Genesis to Revelation
Highlights
A critical commentary on the whole Bible
An apologetics text
A Bible difficulties reference
A theology manual treating important doctrines
A handbook on verses misused by cults
Product Details
Your most difficult Bible questions—answered.
The Bible is full of difficult passages that are hard for believers to understand, let alone those who doubt Scripture. Where can you turn for solid answers on the thorny and complex parts of God's Word?
This comprehensive volume offers clear and concise answers to every major Bible difficulty from Genesis to Revelation, staunchly defending the authority and inspiration of Scripture. Written in a problem/solution format, the book covers over eight hundred questions that critics and doubters raise about the Bible. Three extensive indexes—topical, Scripture, and unorthodox doctrines—offer quick and easy access to the answers you need.
About the Authors

Norman L. Geisler earned his Ph.D. at Loyola University of Chicago. He is a co-founder and former dean of Southern Evangelical Seminary. Geisler is the author/co-author of some seventy books and hundreds of articles. He has taught theology, philosophy, and apologetics on the college and graduate level for fifty years. He has been a professor at some of the top Seminaries in the United States, including Trinity Evangelical and Dallas Seminary, and has been a guest at numerous other schools. Geisler has spoken in over twenty six countries on six continents. He and his wife Barbara live in the Charlotte, North Carolina area. He maintains an active writing, speaking, and lecturing ministry across the country.
Thomas Howe earned his Ph.D. at Southeastern Baptist Theological Seminary. He is professor of Bible and Biblical languages and director of apologetics at the Southern Evangelical Seminary and Bible College in Charlotte, North Carolina.