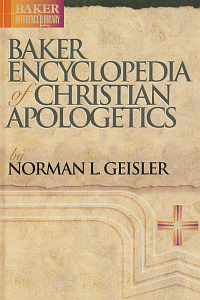 Baker Encyclopedia of Christian Apologetics
Highlights
Silver Medallion Award winner
Weighing in at 850 pages, the monumental work has become a standard text in the field and one of the most comprehensive single volumes on apologetics
Product Details
Challenges to Christianity come from a variety of people and belief systems, and Christians are continually searching for the appropriate responses to critics of their faith. Yet until now there has been no definitive one-volume encyclopedia designed to equip believers for Christian defense against the full range of opposing arguments.
The Baker Encyclopedia of Christian Apologetics is such a work. This comprehensive reference volume covers every key issue, person, and concept related to Christian apologetics. Written entirely by leading apologist Norman Geisler, it stands as the culmination of the author's life-long career and ministry.
The Baker Encyclopedia of Christian Apologetics offers valuable information and advice to a wide audience: pastors and Christian leaders, students on college campuses, those involved in counter-cult ministries—all Christians who encounter skeptics.
The author provides extensive coverage of:
individuals, such as Karl Marx and C. S. Lewis
general apologetics topics, such as the types of apologetics and the role of the Holy Spirit in apologetics
specific challenges, such as the relationship between science and Christianity and the reliability of the Bible
philosophical systems, such as nihilism and existentialism
philosophical concepts, such as the principle of sufficient reason and the principle of causality
biblical issues, such as the resurrection and the date of the exodus
contemporary concerns, such as the Jesus Seminar and post-modernism
perennial apologetic arguments, such as the problem of evil and the existence of God
The encyclopedia also features two indexes (subject and Scripture) that allow readers to easily locate the specific information they need.
About the Author

Norman L. Geisler earned his Ph.D. at Loyola University of Chicago. He is a co-founder and former dean of Southern Evangelical Seminary. Geisler is the author/co-author of some seventy books and hundreds of articles. He has taught theology, philosophy, and apologetics on the college and graduate level for fifty years. He has been a professor at some of the top Seminaries in the United States, including Trinity Evangelical and Dallas Seminary, and has been a guest at numerous other schools. Geisler has spoken in over twenty six countries on six continents. He and his wife Barbara live in the Charlotte, North Carolina area. He maintains an active writing, speaking, and lecturing ministry across the country.
Endorsements
This is a remarkable book in both breadth and depth. I anticipate that it will often be the first reference work I turn to, and I will encourage my students to use it both for the articles and for the bibliographies.
Baker's Encyclopedia of Christian Apologetics is just what we need. Its author adopts a modern form of Thomism, defending classical apologetics. Yet this work is clear and true-a fine resource for every defender of the faith.
This is an extraordinary helpful resource. A superb job by one of evangelicalism's premier scholars.
Nowhere will anyone find more apologetic information than in this volume. Time and again I was impressed with the sheer amount of data that Norm Geisler places at the fingertips of the student. This book will serve as the chief reference work in apologetics for years to come.
Norman has done it again! He has compiled one of the most thorough and accurate apologetic works to date. The Baker Encyclopedia of Christian Apologetics gives us the tools to share our faith to a broken and skeptical world. It should be a part of everyone's library.
Baker's Encyclopedia of Christian Apologetics, edited by Norman Geisler, is not only a rich encyclopedia for reference but because of the author's remarkable penchant for making abstract and difficult truths both comprehensible and applicable to daily life, the book has value to the whole Christian community. Everyone ought to own a copy of Geisler's Baker's Encyclopedia of Christian Apologetics.
There are only a few books I keep right next to my desk - and Norm Geisler's Baker's Encyclopedia of Christian Apologetics is one of them. I'm glad it's a hardcover book, because it gets used all the time. Covering a range of apologetic topics, this is undoubtedly one of the most relevant volumes to come along in decades. I heartily recommend it.
From one of the most knowledgeable minds on the subject comes this invaluable resource. I am grateful to Norman Geisler for giving us this great reservoir of information. I will treasure it.
One cannot help but be impressed with the scope of subject matter and the thorough way in which each topic is discussed... This volume will be a remarkably helpful tool for anyone interested in these many topics relevant to the defense and understanding of Christianity.
I can not say enough positive about this work. It is a great addition to the field of apologetics. And because it is so complete, it may be around for a long time.