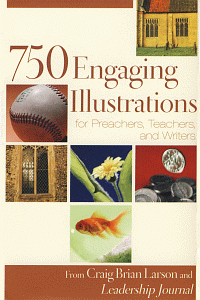 750 Engaging Illustrations
For Preachers, Teachers, and Writers
Highlights
Your one-stop source for relevant, compelling illustrations
Product Details
With this user-friendly volume, you can access more than 750 illustrations that will make your preaching, teaching, and writing more effective and your messages more memorable. Drawn from Craig Brian Larson's many years with Leadership Journal, this popular collection offers unique features, such as:
alternate subject listings to help users adapt selections for use with many topics
Scripture index and easy-to-use topical index
the right for readers to photocopy entries for filing in their own system
A convenient source for contemporary illustrations and stories, 750 Engaging Illustrations for Preachers, Teachers, and Writers will help you make your messages more powerful and relevant to today's media-saturated listeners.
About the Author

Craig Brian Larson has an M.A. in theology from Wheaton Graduate School. Craig is chief editor for Christianity Today's PreachingToday.com, an online journal and illustration service produced by Christianity Today International. His books include Contemporary Illustrations for Preachers, Teachers, and Writers, Preaching That Connects, The Art and Craft of Biblical Preaching and Staying Power. Since 1995 Larson has been the pastor of Lake Shore Church in Chicago. Craig has been a minister in the Assemblies of God since 1975.