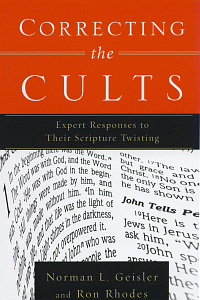 Correcting the Cults
Expert Responses to Their Scripture Twisting
Product Details
Cults and new religions are exploding in unprecedented proportions on the American horizon.
Why do so many flock to these perversions of Christianity? And how can we reason with them to help them see that Jesus is the only way to eternal life?
In Correcting the Cults, Norman L. Geisler and Ron Rhodes identify and respond to the misuse of Scripture by adherents of various religions seeking validation for their own particular doctrines. After a thorough introduction on understanding the nature and character of cults, they proceed through the Bible book by book, highlighting prominent texts that have been taken out of context and misinterpreted.
"Clearly, Christians must take the cultic threat seriously and learn to defend Christianity in the face of the onslaught," write the authors. This comprehensive and accessible resource will lead you into a deeper understanding of authentic Christianity and enable you to help and witness to those who have been swayed by the influence of the cults and new religions that are so prominent on the American scene.
About the Authors

Norman L. Geisler earned his Ph.D. at Loyola University of Chicago. He is a co-founder and former dean of Southern Evangelical Seminary. Geisler is the author/co-author of some seventy books and hundreds of articles. He has taught theology, philosophy, and apologetics on the college and graduate level for fifty years. He has been a professor at some of the top Seminaries in the United States, including Trinity Evangelical and Dallas Seminary, and has been a guest at numerous other schools. Geisler has spoken in over twenty six countries on six continents. He and his wife Barbara live in the Charlotte, North Carolina area. He maintains an active writing, speaking, and lecturing ministry across the country.
Ron Rhodes is a popular author, conference speaker, and seminar leader. He is the founder and president of Reasoning from the Scriptures, a ministry dedicated to training and educating Christians in the Word of God as well as apologetics. Ron Rhodes received his Th.M. and Th.D. degrees in systematic theology from Dallas Theological Seminary, graduating with honors.