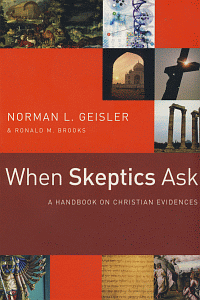 When Skeptics Ask
A Handbook on Christian Evidences
Highlights
Medallion Award of the year nominee in the category of Missions/Evangelism
Product Details
Does God exist? What if he is not all-powerful? Where did evil come from? Are miracles mythological? Why is Jesus better than other teachers?
When skeptics ask questions like these, believers can turn to this helpful, user-friendly guide for thoughtful answers and clear explanations. In When Skeptics Ask, apologetics experts Geisler and Brooks explain how to defend the faith, using the authority and inspiration of Scripture. Readers will discover answers for objections to classic Christianity and learn to identify and respond to the misuse of Scripture by nonbelievers.
About the Authors

Norman L. Geisler earned his Ph.D. at Loyola University of Chicago. He is a co-founder and former dean of Southern Evangelical Seminary. Geisler is the author/co-author of some seventy books and hundreds of articles. He has taught theology, philosophy, and apologetics on the college and graduate level for fifty years. He has been a professor at some of the top Seminaries in the United States, including Trinity Evangelical and Dallas Seminary, and has been a guest at numerous other schools. Geisler has spoken in over twenty six countries on six continents. He and his wife Barbara live in the Charlotte, North Carolina area. He maintains an active writing, speaking, and lecturing ministry across the country.
Ronald M. Brooks, ThM, Dallas Theological Seminary, formerly of X-press Ministries, is coauthor of Come, Let Us Reason and lives in Greeley, Colorado.
Endorsements
Geisler is one of the foremost defenders of the Christian faith today.