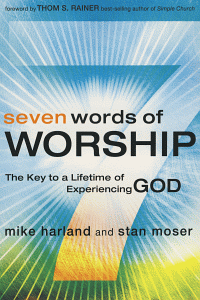 Seven Words of Worship
The Key to a Lifetime of Experiencing God
Product Details
With Seven Words of Worship, you are given a forty-day experience filled with Biblical wisdom, popular song lyrics, and inspiring real-life stories that clearly point out God's true definition of worship. The authors explain how - more than a subjective art form or Sunday tradition - worship is our individual and corporate response to God's revelation - who He is and what He has done!
Creation; Grace; Love; Response; Expression; Presence; Experience. Seven simple words that will lead you to a lifestyle of true freedom in worship... and a lifetime of experiencing God.
About the Authors
Mike Harland is director of worship for LifeWay Christian Resources, one of the largest Christian resource companies in the world. He holds degrees from Delta State University and New Orleans Baptist Theological Seminary and is also a respected worship songwriter. Mike and his wife Teresa have three children and live just outside of Nashville, Tennessee.
Stan Moser is a veteran Christian music and publishing executive whose past credits include leading Word Records, Star Song communications, and Maranatha Music as well as helping to develop artists such as Amy Grant, Bill Gaither, and dc Talk. Today he is president of Spin 360, a service that provides worship resources for more than one thousand churches.